Press Release - Updated "Metal Slug Touch" for the iPhone/iPod Touch Now Available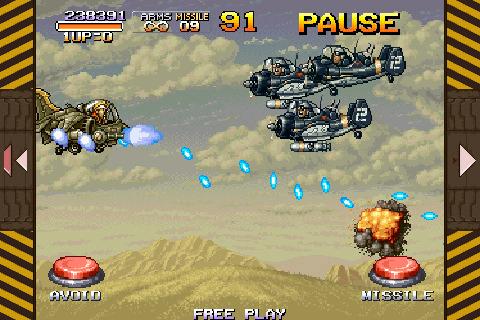 SNK PLAYMORE USA CORPORATION today announced that an
updated version of "METAL SLUG TOUCH" (Version 1.1) for the iPhone / iPod touch with a new game feature "FIXED PAD" is available on Apple's iTunes App Store for only $1.99! Pre-installed users can update it for free!
"METAL SLUG", the 2D action shooter which has fascinated game fans from all over the world with its beautiful dot pixel art and gaudy action, has arrived on the iPhone / iPod touch for a new type of Metal Slug, "METAL SLUG TOUCH"! It will give gamers great excitement and thrills together with the simple and intuitive controls available only on the iPhone / iPod touch platform. Handle the versatile armored tank Metal Slug, and give chase to Morden's Army!
(NEW!) The "FIXED PAD" and "FLEXIBLE PAD" options have been added
to provide the same sensations like a real game controller.
"FIXED PAD": The tactile controller and buttons displayed on the screen
offer simple and intuitive controls like a true game controller.
"FLEXIBLE PAD": The position of the controller can be changed at any time
by pressing the wanted location on the left half of the screen with the left thumb.
- METAL SLUG's beautiful dot pixels perfectly reproduced on the iPhone.
- Simple and intuitive controls available using the Multi-Touch and Accelerometer system.
- For the first time in the Metal Slug series, complete all the missions by handling Metal Slug and Slug Flyer!
- Total of 4 missions to beat. Conquer ground and air to eliminate Morden's Army.
- By touching the "AVOID" icon, character will evade enemy attacks to become invincible for a fixed period of time.
For more information on "METAL SLUG TOUCH", please check the following link:
http://iphone.snkplaymoreusa.com/mstouch/
For the latest screenshots and information about SNK Playmore games, also check the SNK folder at the MMPR ftp site: www.mmpr.com/MMPRFTP/SNK