Pac-Man & Galaga Dimensions Save Files Can Be Deleted
After some mix-up, Namco's PR has officially confirmed the details.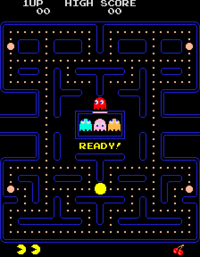 Last week, it came to fruition that Pac-Man & Galaga Dimensions didn't seem to feature the ability to remove the saved data on the cart. This news came hot on the heels of the announcement from Capcom that Resident Evil: The Mercenaries 3D didn't allow users to delete their progress after starting. Today, Namco has cleared up the confusion, announcing the method in which players must delete the progress on their game card.
Upon starting the game, holding the A, B, X, Y, L, and R buttons simultaneously will wipe all data from the game. The confusion came from a lack of mention of the ability in the game and its manual, as well as a follow-up response from a Namco representative.