LEGO Batman 2 Reveal Leaked, To Feature Multiple Superheroes
Superman and Wonder Woman are among possible co-stars.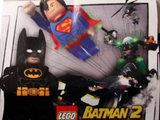 The Danish toy firm LEGO recently scored a major coup by securing licenses for both the DC and Marvel comic book universes. The company has plans to bring LEGO forms of Batman, Superman, Spider-man and the Avengers to the build-crazy public next year, starting with Batman.
Unfortunately for the LEGO company and perhaps fortunately for us, some Batman LEGO units have already reached shelves. Normally this wouldn't be news relevant to PixlBit, but the fact that the instruction booklets also contain advertisements and artwork for previously unconfirmed LEGO Batman 2 – Super Heroes has put it on our radar.
The title and artwork indicates that the caped crusader will be joined by fellow DC Superheroes for the upcoming game. While we can't confirm anything at this time, it's safe to say that Superman and Wonder Woman, featured in the ad, will make an appearance.
The ad states that the game is heading to the 3DS, Wii, Xbox 360 and unspecified PlayStation platforms – which will likely include the PlayStation 3, Vita and possibly the PSP.
No release date was provided in the ad, but it's likely that the game will come out in close proximity to the release of the next Batman film, The Dark Night Rises which is due out in July.