2K Sports $1 Million Dollar Contest Returns
Play a perfect game in Major League Baseball 2k12 to win!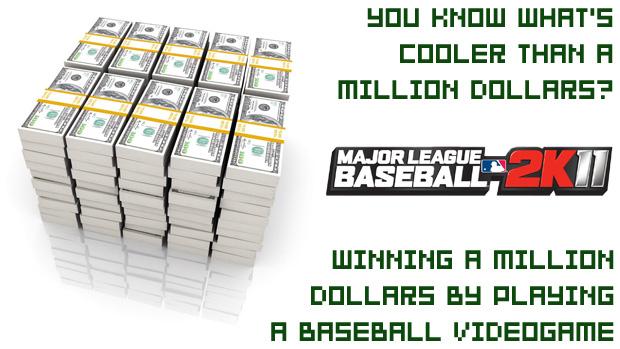 2K Sports announced today its plans to bring its $1 Million Perfect Game Challenge back for a third consecutive year. This time, however, a competitive eight man tournament will determine the winner. Beginning April 4, 2012 (the MLB's opening day), gamers can begin competing for a spot in the final tournament.
To sign up, players will just need to play the Major League Baseball 2k12's Perfect Game Challenge mode in the game itself and then submit a code to www.2ksports.com/perfectgame after pitching a perfect game. This is a drastic change to the previous submission process that required gamers to submit a video recording of their game. The qualifying finalists will be decided "by a dynamic leaderboard that ranks the top perfect games thrown." Players can try to improve their ranking with multiple attempts throughout April.
"Winning $1 Million for being the first to pitch a perfect game in Major League Baseball 2K11 was an unreal experience," said Brian Kingrey, winner of the 2011 contest. "I can't wait to watch the competition unfold and see who will join me and Major League Baseball 2K10 winner, Wade McGilberry, in what's becoming the coolest fraternity in sports gaming. We like to call it 'The Perfect Club.'"
Be sure to check the press release to the right for all of the official rules and regulations.