Major League Baseball 2K12 Review
RECOMMENDATION:

If you have to have the latest rosters in your baseball game, and you only have an Xbox 360, you'll like this just fine. If not, get MLB 2K11 or 2K10. If you have a PlayStation 3, you're better off with the latest iteration of MLB The Show.

It's time once again to take gamers out to the ball game with the newest installment in 2K Sports' digital realization of our nation's pastime. Major League Baseball 2K12 has implemented an improved pitching mechanic and updated rosters, but it continues to fall behind Sony's MLB The Show series due to recurring technical problems and less-than-intricate mechanics. Most damaging of all however is that this is merely a slight upgrade from the last title and essentially the same game MLB 2K10 was two years ago.
A few things prevent this title from being the same game with a different inlay in the case. Graphics have been improved and the various fields and stadiums look better than ever. Some players look more like their real life counterpart than others, but little details like facial hair add a nice touch. The rosters have all been updated to reflect the new lineups and constant lineup updates keep the rosters current. Unfortunately, the differences end there and much of the framework in MLB 2K12 is parallel to what was introduced in MLB 2K10, both for better and for worse.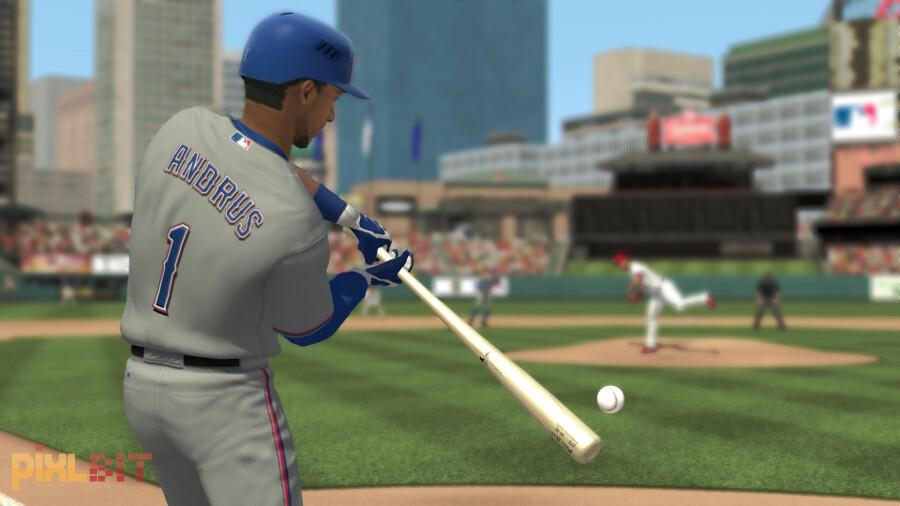 Our review of that very game provides a more detailed analysis of the features that have returned here. Features like My Player, MLB Today, and Franchise mode all return and they offer great ways to play. My Player lets you develop a role-specific player, MLB Today lets you play the current day's real life game with accurate lineups, and Franchise mode has you playing through several custom seasons while managing lineups, trades, and minor league teams.
These are all great features as they give gamers a lot to do from different perspectives of the sport, but all of these modes remain relatively unchanged. A very similar presentation and menu setup doesn't help. None of this is distinctly different or improved from last year's game. A new MLB Today Season mode is introduced this year that has you compare your season stats with your current favorite team with that of the actual teams concurrently, but this is a limited time affair as after the season ends in October, this mode becomes obsolete.
Not everything needs to change. The in-game commentary is delivered by Steve Phillips, Gary Thorne, and John Kruk. Once again their voice overs are wonderfully done, due in part to the addition of hundreds of new lines that help keep the commentary varied and fresh. Coupled with the graphics, it emulates a TV broadcast better than ever.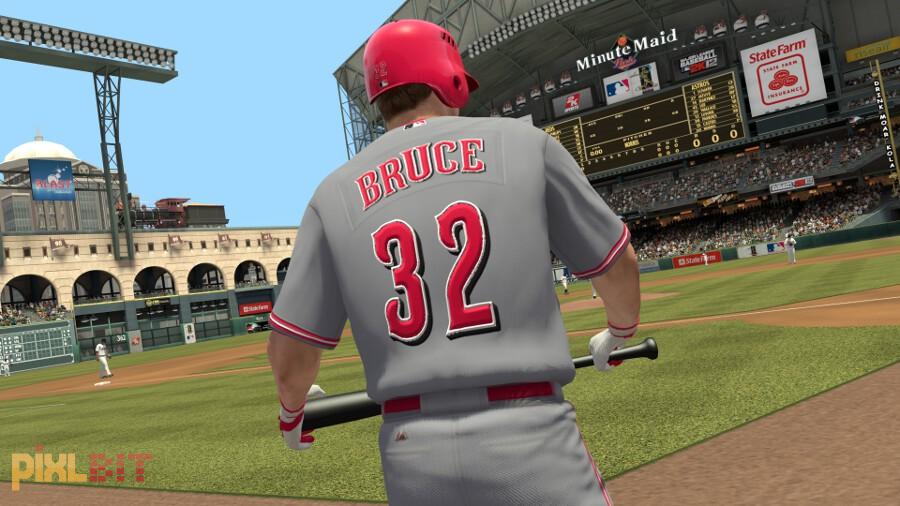 Much of the new voice over commentary describes the pitching, which has become more sophisticated this year. Pitching now utilizes more stats comparing batter and pitcher match-ups and those stats instantly change depending on how the matchup is going. The commentary reflects this and it'll fundamentally tell you what's working and what isn't. Your opponent's AI is improved in this title and will catch on to your throwing pattern, as indicated with a colored marking on your selected pitch. Whereas throwing fastball after fastball would've worked in previous titles, throwing a vast variation of pitches is essential to successful innings.
The pitching interface remains the same as before, however, it's easily the most entertaining aspect of MLB 2K12. It's a challenging one that prevents the pitching from becoming rudimentary. There is always room for error and the new stats prevent match-ups from being predictable. Both you and the AI batter are constantly learning and the system succeeds in replicating that pitcher vs. batter mentality. Striking out your opponent is intensely satisfying.
Batting is, unfortunately, less gratifying. Using the analog stick to swing the bat isn't an intricate enough action. Hitting the ball is also surprisingly difficult to do, so when you finally hit that home run into the back end of the stadium, you'll throw your hands up in exhilaration. Still, the high difficulty and simple batting controls dilute that excitement because it's never clear whether skill or luck is playing a greater role.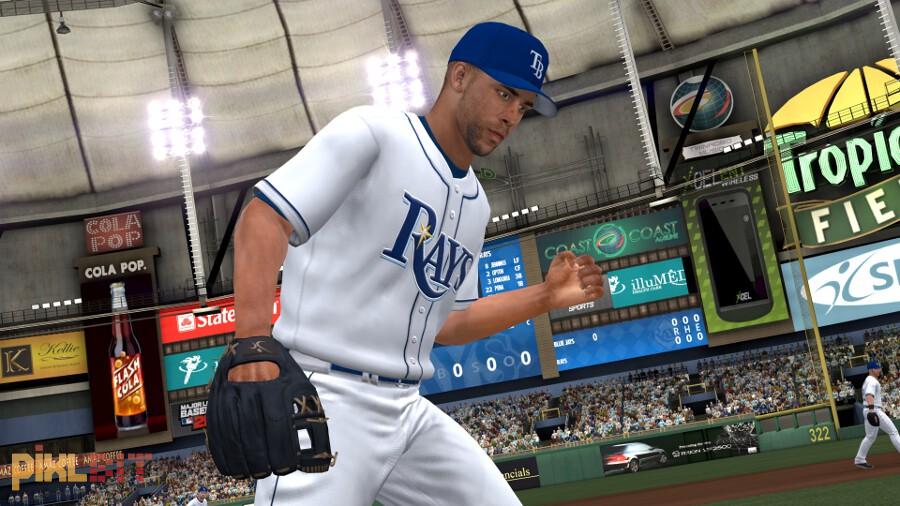 Unquestionably, luck plays the greater role when fielding the ball. Controlling your fielder and trying to get the ball is downright agonizing at times. The game is completely random on whether or not your fielder will do what you want them to do. You'll constantly be controlling the wrong fielder, balls will pass right by shortstops, and most infuriating of all, you'll constantly find yourself seemingly underneath a fly ball when it falls right next to you. At other times however, the game will practically be catching pop-ups, scooping up grounders and tagging bases for you. Whether it's in your favor or not, you'll be utterly discombobulated and you'll likely yell at your TV at least once.
When you finally do gain control of your fielder and manage to get a hold on the ball, you'll experience the small upgrade made to fielding. A throwing meter has been added that reflects the ability of the fielder to throw correctly depending on his position (such as if he needs to throw while on his back foot). The quality of the throw is color-coded and you must press the button at the correct time for the best throw. This system works well in that it instructs you to keep a cool head in order to read the meter and pull off impressive plays, but it's also counterintuitive in that in the heat of the match, you will settle for a weak and inaccurate throw.
The MLB 2K series has had problems with glitches and various other odd occurrences in the past and unfortunately 2K12 is no exception. You'll see clipping with batters and the bats, animations will be either jittery or excessively fluid, coaches walk like they're constipated, batters look like they're going for a jog rather than booking it to the next base, and the list goes on. It really is a shame that 2K12 lacks polish because it pulls the player out of what would've been an immersing game of baseball.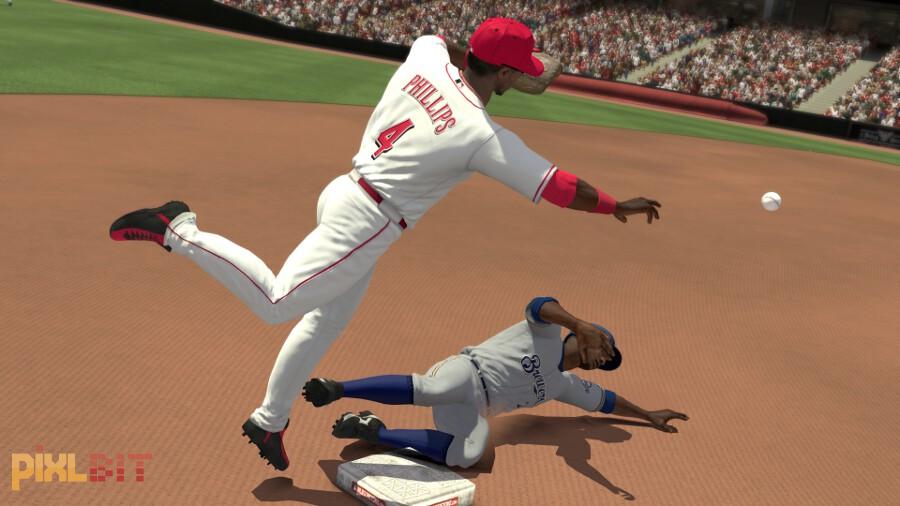 MLB 2K12 straddles a line of quality. You have outstanding pitching, okay batting, and at times, nearly broken fielding. Coupled with the fact that little has been done to differentiate this title from the last couple of games and it's hard to recommend this title over its older, and now cheaper, iterations. However, on its own, it's still a solid game of baseball and if you need to have the 2012 Los Angeles Dodgers as your team and you only have an Xbox 360, you won't be disappointed.