Lightning Will be Playable in Final Fantasy XIII 2, For a Price
The previous FF XIII leading lady will only be playable through DLC.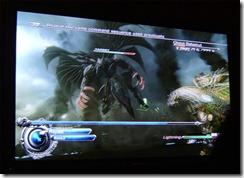 According to an article posted at Andriasang, Final Fantasy XIII's previous heroine, Lightning, can be acquired as a playable character in the upcoming sequel, provided you purchase the DLC.
This story was also picked up by Joystiq, and is based on news from Famitsu interviews with Square Enix. Also revealed was Square Enix's Intent to publish DLC or literature for other characters, including Sazh, his son, and Chocolina, the mysterious merchant.
After purchasing the DLC she is included in, players will need to defeat her in the Coliseum, which will also include several classic Final Fantasy bosses. She can then be used as an active character in the player's party. The download will also include "secret story episodes" for the character.