Twisted Metal Hands On Preview
Jason gets some hands on time with Twisted Metal, but more importantly gets the full scoop on the details of the game.
Brief hands on time with the latest build of Twisted Metal was available after the Sony press conference. During my hands on time, I learned that the game is scheduled for release in just a few short months on October 4. While I didn't have the opportunity to play much of the game, it was clear that it was a faster paced experience than what the series has offered in the past. Though brisker in pace, the game felt controllable and smooth, just as Nick reported at last year's E3.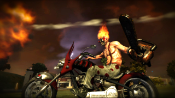 There's not much else to say from my experience, other than the fact that it was enjoyable and seemed better than previous Twisted Metal entries I've seen, but my experience with the series is extremely limited. Though I don't have much to say in way of impressions, I did manage to collect quite a bit of information about the game.
Eat Sleep Play, headed up by David Jaffe and Scott Campbell, are developing the game and are the original creators of the Twisted Metal series. While a few entries have been developed by other entities, this title has been made in the vision of the originators. The story centers around Calypso, commander of the Twisted Metal vehicular combat contest.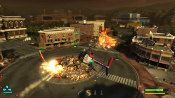 The brutal sport involves only a small number of participants, all of which have been hand selected. Participants are organized into four factions, each headed up by original participants, Sweet Tooth, Dollface, Grimm, and Preacher. Winning the brutal tournament will result in Calypso fulfilling their greatest wish.
Given the format of Twisted Metal, the game is organized well for multiplayer battles. This time, up to 16 players can go head-to-head via the PlayStation Network. 2-4 players can match up for split-screen play and can even go online as a group.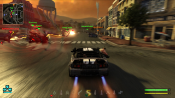 The game is stacked with brand new levels, all of which can be destroyed in exciting new ways that take use of the PlayStation 3's power. There will be more than twelve vehicles to choose from which includes Axel, Dollface, Calypso, Black, Vermin, Crazy Eight, No Face, Sweet Tooth, Creature, and Talon, the first flying vehicle in the series. Talon will be able to tear apart enemies with its minigun turrnet, and pick up teammates with a magnet so that they can rain twice the damage below them.
In addition to the game's extensive multiplayer offering which has gameplay types both old and new, there will be a full single player campaign that integrates Trophy support.During my time with the game I noticed some sort of XP number, but I can't say what exactly it works into at this time.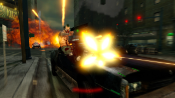 While the levels haven't been detailed, I got to fight in level that featured a movie theater, a wind turbine, a lightning storm, and under and over passes. It was well designed and offered great locale variety for combat.
Look for more details on this upcoming Sony game in the coming months.