NeoGeo X Handheld Confirmed For Later This Year
How much will you pay for a 90s arcade cabinet in your hands?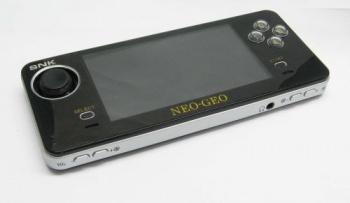 A little over a month ago, we reported that an SNK NeoGeo portable handheld system was being produced, and today more details have been released on the retro-inspired product. Reports are coming in that Blaze, a "retro console and accessory specialist," has made a deal with SNK Playmore and distributor Tommo to bring the handheld console to store shelves.
Now called the NeoGeo X, it will come with 20 pre-loaded games, an SD card slot, a 3.5" LCD screen, A/V output, stereo speakers, and a headphone socket. The list of included titles has been revised and is available below.
Art of Fighting
Baseball Stars
Cyber Lip
Fatal Fury
Fatal Fury Special
Football Frenzy
King of the Monsters
Last Resort
League Bowling
Magician Lord
Metal Slug
Mutation Nation
Nam 1975
Samurai Shodown
Sengoku
Super Sidekicks
The King of Fighters '94
The Ultimate 11
Top Players Golf
World Heroes
The handheld is said to be a limited edition product, driving up the price. It's speculated to cost as much as £500 ($783 USD). The NeoGeo X is set to go on sale in the second quarter of 2012.