Shadowrun has a Kickstarter Campaign
And it's already over its goal!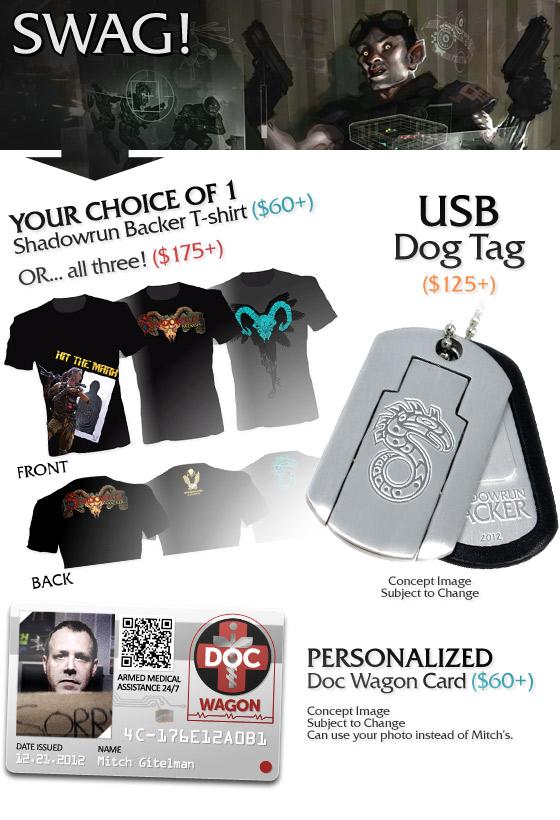 Hot on the heels of our MIA feature highlighting Crimson Skies, Jordan Weisman, co-creator of that game, as well as MechWarrior, Battletech, Mage Knight, and Hero Clicks, launched a kickstarter campaign to fund the digital return of another of his creations: Shadowrun. The big news is that after a mere twenty eight hours, the goal of $400,000 has already been exceeded and is still rising steadily.
Pledge rewards include DRM-free copies of the game, wallpapers, in-game special abilities, digital and physical art books and stories, T-shirts, and personalized Doc Wagon cards. High tier rewards include the ability to design in-game elements, being named in the game credits, having the donor's likeness included in the game as an NPC, and even meeting the developers for lunch. The very highest level reward includes a visit to your hometown from Mike Mulvihill, another designer of the original game, where he will host a tabletop session of Shadowrun.
This is hardly the first digital version of Shadowrun. The game has made appearances on the Sega Genesis, the Super Nintendo (arguably the most successful transition) and notoriously as a first person arena shooter on the Xbox 360. The goal this time is to create a "graphically rich 2D turn-based single player game with deep story interaction, meaningful character development, and highly-contextual tactical combat" appearing on PC, Android and IOS tablets, and now, Mac OS platforms.
The world of Shadowrun is a dark, dystopian future not unlike the universe of Bladerunner, but with the addition of Tolkien-esque races and classes. Megacorporations rule the world, and a network called The Matrix is very real and bears a striking similarity to the one featured in the movie of the same name. As you can probably tell, the world has a rich backstory, which is summed up on the project's kickstarter page.
If you're a Shadowrun fan, or just someone who finds the world interesting, there's plenty of time left to show your support and get in on the goodies. Click on the link and check it out!