Humble Indie Bundle V Brings Heavy Hitters
Psychonauts and Limbo are just the start.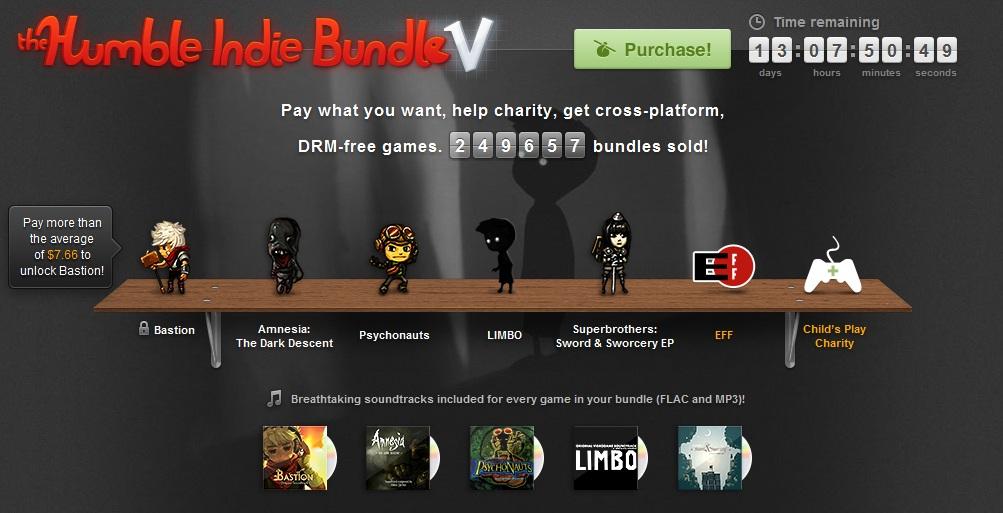 The latest Humble Indie Bundle has been revealed and it brings a brand new set of five critically acclaimed titles from independent developers, which will be available until June 14. The pack includes Psychonauts, Limbo, Superbrothers: Sword & Sworcery EP, and Amnesia: The Dark Descent. Anyone who pays more than the average price will also get Bastion. Additionally, all of the games' soundtracks will be included in both MP3 and FLAC formats.
As always, you can name your price and the money can be divvied up between the game developers, Child's Play Charity, and the Electronic Frontier Foundation. The bundle is available on PC, Mac and Linux, contains no DRM, and each game is redeemable on Steam as well.
At retail prices, players would normally have to invest over $100 to get all of these titles, which makes this a great offer. The bundle as of this reporting has already made more than $1 million and the average price is at a low price of $7.37. As such, for just $7.38 you can grab the full bundle now.
Check out the debut trailer below: