Hitman HD Collection Leaked On Italian Site
A collection compiling Hitman 2, 3 and Blood Money may be in the works.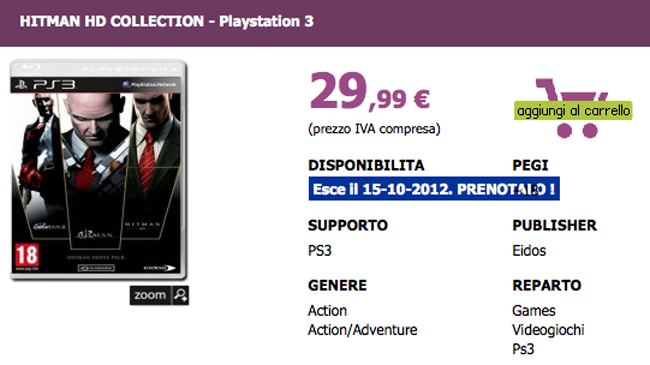 A Hitman HD Collection consisting of Hitman 2: Silent Assassin, Hitman 3: Contracts and Hitman: Blood Money has appeared on 16 Games, an Italian retail site. So far the listing only shows a PlayStation 3 version, will cost €30, or $37, and has a release date of October 15, 2012.
Translated, the listing states the following:
Enter a world of crime, sin and greed. Penetrate deeper into the recesses of the mind of Agent 47, the world's deadliest assassin. Remaining anonymous, being quick and totally ruthless: these are the keys to a perfect execution. Follow Agent 47 while executing orders on behalf of slum-living criminals or on behalf of the highest summits of power. Nothing is important except the target.
Square Enix has yet to confirm the collection's existence. Hitman: Absolution, the next title in the series, will be released on November 20, 2012.

#Hitman hd collection
#Rumor