The Testament of Sherlock Holmes Coming to Xbox 360 and PlayStation 3
For those that have been waiting for the book to finally come out on "video game."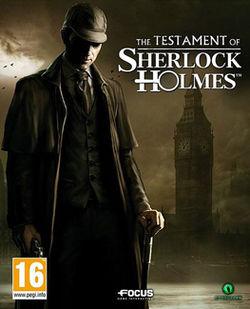 After 125 years, Sherlock Holmes is finally getting his own console game. The Testament of Sherlock Holmes is an investigation game that puts the player in charge of examining crimes scenes, collecting clues and evidence, pursuing leads, questioning witnesses and suspects, and other detective tasks. Atlus will be bringing the Frogwares-developed game to North America in September.
Some parts of the investigation are performed as Sherlock Holmes, others as Doctor Watson. The questioning of suspects appears to be somewhat dynamic, as a certain approach to suspect interviews will be needed in order to extract as much information as possible.
Advanced visual technology will provide "unprecedented depth and nuance" when examining crime scenes, clues and suspects. The control system utilized was created to give console games an easier time searching set pieces so they can be as thorough as possible. A new light and shadow system, making use of post-process image effects, help make the game look intricately detailed. All the characters have also been motion captured and have "high quality voiceovers."
The plot is rather strange as it positions Sherlock Holmes as an accused criminal. After solving a case concerning priceless jewels, the owner of the necklace in question has accused Holmes of returning a forgery to him. With no evidence to clear Holmes' name, even his companion Dr. Watson doubts his innocence. Has the great Sherlock Holmes become a thief himself? Check out the trailer below to see the game for yourself.
Check back on PixlBit for more E3 2012 news and previews or visit http://sherlockholmes-thegame.com for more information.

#The testament of sherlock holmes
#Atlus