New PlayStation Collections Coming Soon
Sony unveils some value packed discs this month.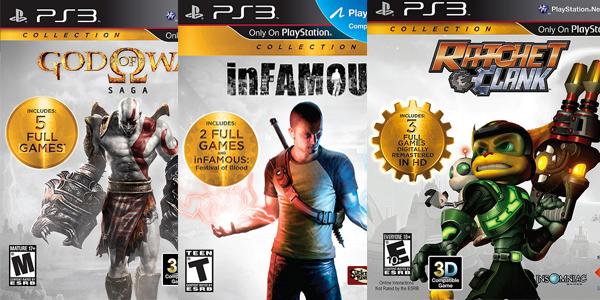 You've probably heard of the Ratchet and Clank HD Collection for PlayStation 3 by now. It came out in Europe not too long ago and we knew it was on the way for North America relatively soon. What we didn't know was the new collection initiative Sony is rolling out with the release of this highly anticipated remaster.
August 28 is the day to mark on your calendar. That's when Ratchet and Clank HD Collection hits stores. But it will also be accompanied by a couple other value packages. You can pick up the inFAMOUS Collection, which includes inFAMOUS 1 and 2 and the unique DLC episode Festival of Blood. The game is also said to include extra missions, character costumes, and weapon styles.
Even more robust than those two collections is the God of War Saga. A whopping five games are included in this set, which truly is every adventure of Kratos to date. You'll get the HD remasters of the PS2 classics God of War 1 and 2, the recently released HD versions of the PSP games Chains of Olympus and Ghost of Sparta, and the PS3 epic God of War 3. Sony promises "exclusive bonus content" as well as a free month of PlayStation Plus.
These collections "start" at 29.99, which is a lower price point than many of the PS3 HD collections so far. God of War Saga will likely be a higher price, but the actual retail price of that collection was not available at the time of this writing.