Press Release - WORDS, PICTURES, PETS AND MORE! - EA ANNOUNCES DIVERSE LINEUP OF DSIWARE TITLES
SUDOKU and MySims Camera Amongst EA Titles Coming This Year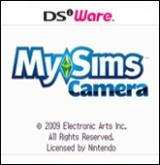 Guildford. UK, September 21, 2009 - DSi owners get ready to download. Electronic Arts Inc. (NASDAQ:ERTS), today announced MySims" Camera and SUDOKU are available for download from the Nintendo DSi Shop along with original EA titles which are also in development and will release later this year.
EA has fully embraced the Wii and the Nintendo DS, bringing custom-built DSiWare games to the Nintendo consumer is an exciting opportunity for us to reach DSi owners with easy to play games that they can download and play whenever they want, said Rod Humble, Head of the EA Play Label. The lineup of games we have in development will appeal across the diverse DSi consumer base so whether players want to showcase their creativity and humor using MySims Camera or sharpen their math and word skills with SUDOKU- our first games in the DSi Shop will deliver a quick and fun experience.
MySims Camera is a camera application that utilizes popular MySims characters. You can take photos and overlay 3D MySims characters to bring them into the real world. The 3D characters can be animated, moved, scaled, rotated and cropped. You can also draw on the photos with the stylus pen or use the stamp tool to add more art and style. Create a unique frame and save the photos to the DSi photo album to share with friends. With MySims Camera, you make picture taking with MySims a fun creative experience for the entire family.
SUDOKU offers hundreds of number-crunching puzzles that will stretch your brain to the limit! Play the exclusive Newspaper Mode, adding puzzles from your favorite black & white and starting your own collection! SUDOKU features a host of grid designs, stat tracking and an in-game timer to test your reaction time. Play on 5 different levels from Easy to Insane. This engaging game has been polished to perfection and renders a sleek design that's easy on the eyes.
Additional EA titles in development including: Downtown Texas Hold'em and unannounced original titles will be available later this year. Pricing has not yet been announced. For more information visit www.eagames.co.uk/press.