Bloody Wolf Coming to Virtual Console Arcade
A banner on Data East's website reveals that the title is coming to the Wii's Virtual Console.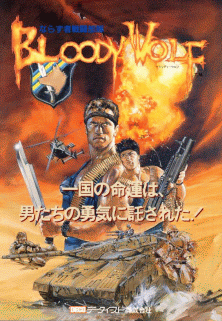 According to a banner on the Data East website, Bloody Wolf is due for release on the Virtual Console Arcade.
Bloody Wolf is a run-and-gun Arcade title originally released in 1988. The title bears similarity to games of the era like Guerilla War, Ikari Warriors, Mercs and Heavy Barrel. At the time the game was poorly translated and is now notorious for its horrible "Engrish."
Players were able to take on a total of seven scenes wherein they kill a variety of different colored enemies as a pair of commandos.
It's currently unknown when the title will make an appearance on the service, but players can already check out the TurboGrafx-16 version of the game which was released two years ago.
A screenshot from the Data East website is available below.