Press Release - Zeno Clash Ultimate Edition Price Reduced to 800 Microsoft Points on Xbox Live Arcade For a Limited Time
Hurry! This offer is only available this week!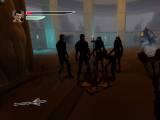 IRVINE, CALIFORNIA -- August 31, 2010 -- Atlus U.S.A., Inc. today shouted from the rooftops that Xbox LIVE® Gold Members can punch, kick, and headbutt their time away, for thirty-three percent off with Zeno Clash Ultimate Edition™ on Xbox LIVE® Arcade for the Xbox 360® video game and entertainment system from Microsoft. This critically acclaimed, first-person melee action adventure brawler, normally priced at 1200 Microsoft Points, is included in the XBLA Deal of the Week for only 800 Microsoft Points!
Zeno Clash Ultimate Edition recently released with praise, honored for its unique visual style. 1UP.com says "Zeno Clash remains the same gorgeous, grotesque, unique experience it was on PC, and a game well worth its...price tag on Live," giving it an A- on their review. GameZone states "...the strange, brutal, and somehow beautiful world that ACE Team has created here is one that you won't want to miss out on," scoring it 9/10 on their review.
The vastly enhanced Zeno Clash Ultimate Edition features new modes including all-new online and split-screen cooperative mode for the Tower and Pit Challenges, along with new combat moves, new weapons, and a whole new Zeno Rush gameplay mode. Zeno Rush mode lets players compete against themselves and each other (via online leaderboards) in trying to complete select scenarios from the single-player campaign in the shortest times possible. All this added content, combined with a series of tweaks and improvements based on fan feedback, deliver the definitive version of the critically acclaimed game.
Zeno Clash Ultimate Edition is available on Xbox LIVE® Arcade for 800 Microsoft Points, for a limited time. Visit the official game website (www.zenoclash.com) for more information.