Rhythm Heaven Fever Preview
Rhythm Heaven is back with new mini-games and tracks from a famous Japanese producer.
Nintendo's popular beat-based series will be adding another title to their lineup with a brand new Rhythm Heaven, coming exclusively to the Wii.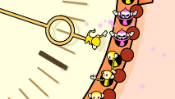 The title will feature a variety of brand new puzzles, some of which will feature recognizable characters from the original DS title (in America). Following the same convention as its predecessors, Rhythm Heaven for Wii will require players to hit the "A" button, or "A" and "B" buttons together, in order to perform a particular action in time to the background music. Many of the tracks featured in Rhythm Heaven for the Wii were created by TSUNKU, a famous pop music producer from Japan.
Some of the timed events players will encounter include stabbing a pea with a fork, swinging a golf club, playing aerial badminton, and slashing demons as a samurai. As players become more accurate and skillful, they will be able to earn medals for their proficient performances, in addition to unlocking bonus content.
Rhythm Heaven for Wii has not yet been rated by the ESRB and there is no release date currently set.

#Rhythm heaven
#Tsunku