Dillon's Rolling Western Preview
A short trailer showcases a new downloadable 3DS title with gameplay elements from multiple genres.
The Rolling Western is an upcoming 3DS Shop title to be published by Nintendo, for which there is extremely limited information. It was not showcased at the Nintendo Press Conference, and there has been no official fact sheet or press release issued for the game. The only preview comes in the form of a few screenshots and a brief trailer.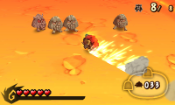 From what I can tell, The Rolling Western is the combination of an action and tower defense title. The game stars a protagonist (Jiro) who looks like Sandslash dressed as a cowboy and sounds like Link from the Zelda series. This character has one main attack, which is to roll into enemies, damaging them in the process.
In addition to dealing physical damage by rolling into enemies, players seem to be able to utilize towers that will damage the enemies also. Whether or not players will be setting up the towers themselves or they're already there, I honestly can't tell, but players can definitely select towers to upgrade. Like many other tower defense titles, what appears to be a wave number is displayed in the upper right hand corner; this number indicates how many enemy waves are left.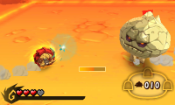 Within the game, Jiro was also seen performing basic, adventure-type actions, such as opening doors, traveling across vast areas, and destroying plants and rock in order to uncover money. Similar to other Nintendo adventure games, the trailer also displays Jiro's life force (in the form of hearts) increasing as the game goes on, so there is clearly some manner in which to increase one's vitality.
Currently, Nintendo has released no further information regarding the title.

#The rolling western
#Jiro