Dead Rising 2: Off the Record Hands On Preview
Plus footage from the show floor.
The 10-minute E3 demo featured a zombie beat-down in a futuristic carnival called "Uranus Zone," set in Fortune City, Nevada.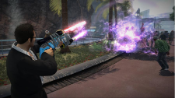 Just about anything could be picked up and thrown or swung around. There were, of course, axes and shotguns and baseball bats, but benches and shade umbrellas made for some good combos. Throwing around a basketball or squeezing a ketchup bottle was also amusing. Aiming was done by holding the left trigger and throwing with the right one. Punches and kicks could be done, but why bother with so many potential weapons at hand? Punching/kicking and jump-kicking all felt a little clunky but I guess are better than nothing as a last resort. The hit detection was plenty generous, but their animation just looked dated. Waggling the analogue stick to break free from a zombie's grasp also felt like a blast from arcades past. Another problem I had was with the kill counter; if they're zombies, are they ever really killed? It's not very realistic if you ask me.
Anyways, there were plenty of them for now-playable Frank West to smash up but it never got overwhelming or frustrating. Zombies could carefully be lured and gathered together for group kills or photos, which again make a return. Pics were judged under the category Horror, Outtake, Drama, and others to earn Prestige Points (PP).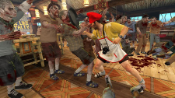 Those who haven't had enough Dead Rising 2 can go Off the Record on Playstation 3, Xbox 360, or PC this fall.