Assassin's Creed Revelations Hands On Preview
A rundown of the multiplayer mode, plus footage!
Assassin's Creed was a brand new experience for me and a fun last game on my second day at E3. In the multiplayer mode I got to try, two sides faced off as either assassin or prey in a castle courtyard in Constantinople. The prey would run off and try to blend in among the inhabitants and the assassins would – can you guess? – that's right, they'd hunt them down and kill them. Boy, you're good at guessing.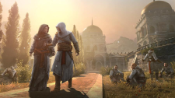 The ones hiding would wander around as surreptitiously as possible; standing around and chatting with a crowd of similar-looking NPCs or teammates and even sitting on a bench earned points second by second. The animation was very smooth; the player would automatically react to a person or crowd or even object of interest. Discerning other human players from AI was not easy.
Updates on the pursuers' kills as well as reminders that they're hot on your trail keep the hunted from standing around in one place for too long. Obviously running is a great way to get yourself seen, so having the patience to walk everywhere is key, and my booth attendant insisted that climbing up a building was not a good strategy either (but it could be useful for moving around faster). Being the mouse in the cat-and-mouse game was definitely nerve-wracking, but there were a few other options besides staying still or running. Some scattered gates would close immediately after running past them to escape an attacker, and items like a smoke bomb or stun grenade (fireworks?) could also be used, not to mention a gun, but there was not much chance to get the hang of those things in the demo. Even with practice I doubt these will come in handy very often when killer ninjas are lurking.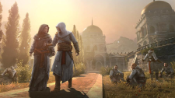 Assassins had the deck stacked in their favor thanks to an arrow pointing to the vicinity of their prey, but they still needed to move about discreetly and make a kill carefully (a civilian kill would lose points). Switching to a different target could be done on the fly; I'm pretty sure that any prey that acted covertly for a long enough period of time would be taken out of the targeting lineup for awhile. A great level of strategy and team cooperation will be required by both sides.

At the end, points are tallied up by team to award a winner. As much fun as it was though, everyone walked away a winner.

Check out our multiplayer gameplay footage from E3: