Metal Gear Solid HD Collection Preview
Snake's first five games packaged together under one box.
Konami is rebuilding Metal Gear Solid 2: Sons of Liberty and Metal Gear Solid 3: Snake Eater from the ground up with a few modern additions, like achievements/trophies and updated button configurations. They will also have icons, sound effects, and fonts upgraded to HD, plus a frame rate locked at a steady 60 frames per second.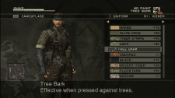 The remakes will be accompanied by ports of Metal Gear (MSX2) and Metal Gear 2: Solid Snake (MSX2) that were originally included with Metal Gear Solid 3: Subsistence. Outside of these titles, American players can expect a console port of Metal Gear Solid: Peace Walker, complete with proper controls and the same HD graphics the other titles are being treated to. In Japan, this title will be omitted, but the PlayStation 3 version will come with a PSN download voucher for the original PlayStation version of Metal Gear Solid.
A price and release date more specific than November 2011 have also yet to be announced.