Prototype 2 Hands On Preview
Prototype 2 Initial Impressions
Here at NYCC 2011 I was able to take some time to play the Prototype 2 demo, not having played the original it is hard for me to say what has changed, so my impressions are solely related to what I played in the demo.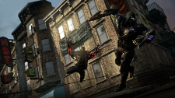 The demo set me in the middle of a challenge mode where I had a set time limit to kill a certain number of enemies. The first thing that struck me were the foggy, dated looking graphics. While not a deal breaker, they made it tough to see all the action happening on the screen.
The gameplay was definitely a button masher experience as I worked out various combos. It was pretty fun however when I was able to work in some crazy powers or even pick up and throw cars at people, in addition to the melee fighting.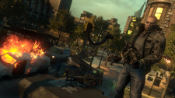 Something that was annoying was the excessive use of "bullet time" scenes. They felt unnecessary and hurt the flow of the game. Overall, the entire experience felt akin to this mix of both good and bad. I can't say Prototype 2 was on my radar to begin with and this limited demo did little to sway me.
Those excited for more Prototype will have to wait until next year when Prototype releases on April 24, 2012.

#Prototype
#Sandbox