Twisted Metal Preview
The grand daddy of vehicle brutality is back and ready to haunt gamers this Valentine's Day.
When Twisted Metal: Black was released in 2001 the world was taken by storm by its great single player stories, large-scale online multiplayer, and endlessly fun local multiplayer. Here we are, waiting nearly 11 years to get our hands on the next console version of Twisted Metal. With a February 14th release date, this Valentines Day is shaping up to be a good day for any PS3 owner who is into cars, destruction, morbid stories, and online multiplayer.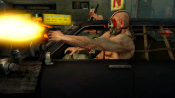 Iconic characters like Sweet Tooth, Dollface, Warthog, Darkside, Mr. Grimm, and Preacher all make a return in Twisted Metal. The game follows the same plot of the older titles: each character is fighting in a gruesome destruction derby and the last contestant standing is granted one wish. All of the characters in Twisted Metal are dark and morbid, each with their own psychotic wish they want fulfilled.
Twisted Metal is a vehicle driven shooter with each character having a unique vehicle. This new iteration of Twisted Metal looks to further its vehicle variety by including specialty vehicles, such as helicopters and The Juggernaut, a fully armed semi truck that multiple players can man at once. Sweet Tooth, the game's Ice Cream Truck driving clown, also has the ability to transform his vehicle into a walking battle tank. It is currently unclear if every vehicle in the game will have a transforming mechanic, but I image every vehicle will have its own unique power-up similar to Sweet Tooth's.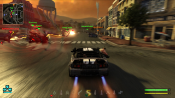 One new feature that Twisted Metal is boasting is large-scale destructibility. Battlefield 3 recently upped the ante on what can be turned to rubble during a multiplayer session. If Twisted Metal can even come close to Battlefield 3's destructibility, then this could be a huge visual treat that would augment the chaotic atmosphere of the game. The end of a battle could possibly look like everyone just went to hell and back compared to the beginning of the fight.
Twisted Metal: Black was one of the earliest online console games, so it's only right that this new Twisted Metal would follow in its footsteps. Twisted Metal features 7 online modes, including Last Man Standing and Nuke (a capture the flag mode). Online matches allow up to 16 players which support 2 player split screen per console. Most interesting is that nearly everything is customizable for online matches. You can choose what power ups appear, what specialty vehicles appear, whether you want AI controlled bots, etc. It seems like Eat Sleep Play have focused on making an extremely customizable online experience so that anybody can pick and choose how to play the game. You can even customize how your vehicle looks so that you stand out from your rivals. Fully equipped with online leaderboards, stat tracking, and a leveling system, it seems that Twisted Metal may be ready to enter the modern era of online gaming.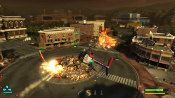 If you're a long time fan of Twisted Metal and want in for the nostalgia, this game might also be for you. Along with the new and improved online modes, Twisted Metal supports 4 player split screen local multiplayer so you can play Twisted Metal on the couch with some friends just like you did a decade ago. Furthermore, the development team has included the "Classic" control scheme, which uses the shoulder buttons for weapons and the face buttons for acceleration and reverse – just like the good old days.
Twisted Metal is looking promising and might end up being another must-have PS3 exclusive. We'll know for sure once we get our hands on it this Valentine's Day. Check PixlBit after the launch for our Twisted Metal review and see if its online mayhem is worth a purchase.