Press Release - NINTENDO DOWNLOAD: TOPPLING CUBES, 3-D CHARACTERS AND CLASSIC NINJA KICKS LEAD A STELLAR LINEUP
Sept. 21, 2009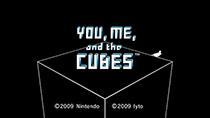 Beware of falling objects and soaring imaginations with this week's new downloadable game offerings from Nintendo. The WiiWare™ service welcomes the precarious puzzle action of You, Me, and the Cubes™ and the court-storming antics of Family Tennis. Commodore 64 favorite Last Ninja 2 arrives on the Virtual Console™, pushing players to heroic heights in a classic martial-arts adventure. Nintendo DSiWare™ users can let the chips fall where they may with Clubhouse Games™ Express: Strategy Pack or create imaginative pictures with MySims™ Camera. Another heads-up for Nintendo DSi fans: Consumers can still receive 1,000 bonus Nintendo DSi Points™ by purchasing a new Nintendo DSi™ game system and connecting to the Nintendo DSi Shop by 11:59 p.m. Pacific time on Oct. 5, 2009. For full offer details, please visit DSiOffer.Nintendo.com.
WiiWare
You, Me, and the Cubes
Publisher: Nintendo
Players: 1-2
ESRB Rating: E (Everyone) - Comic Mischief
Price: 1,000 Wii Points™
Description: Experience a unique combination of strategy and skill as you maintain a level playing field in the physics-based action puzzler You, Me, and the Cubes. The action centers around Fallos, mysterious creatures that resemble humans and have an ability to balance on a playing field of 3-D cubes. First, create a pair of Fallos inside your Wii Remote™ controller by shaking it up and down. Next, determine suitable places for the Fallos to land, then fling them to the selected cube with a swinging motion. After that, the Fallos are on their own. If your placement is sound, the Fallos will remain stable and you'll clear the stage after tossing a required number onto the cubes. But if the weight or locations of Fallos causes the cubes to tilt and sway too much, the Fallos will lose their balance and fall off. Adding to the challenge, you'll find that some cubes have different properties, making tosses tricky and further threatening the stability of the Fallos. Guide Fallos through dozens of single-player stages or invite family and friends to join you in two-player cooperative mode.
Family Tennis
Publisher: Aksys Games
Players: 1-4
ESRB Rating: E (Everyone) - Comic Mischief, Mild Suggestive Themes
Price: 500 Wii Points
Description: Daddy, Mommy, Sarah and Billy return for some hard-hitting, fast-paced tennis action. Battle it out between the happy family members as you vie for the top spot. Choose from three different modes: Elimination Match, Free Match and Thrilling Rally. Play against the CPU or compete with friends. Elimination Match mode pits you against the CPU to test your skills, while Free Match mode allows you to play against another player under conditions of your choosing. Thrilling Rally mode lets you join up to three other players and rally to see who can get to 100 points first.
Virtual Console
Last Ninja 2
Original platform: Commodore 64
Publisher: Commodore Gaming
Players: 1
ESRB Rating: E10+ (Everyone 10 and Older) - Mild Violence
Price: 500 Wii Points
Description: The ninja known as the Mystic Shadow Warriors were the elite fighting force of ninth-century feudal Japan. The evil Shogun Kunitoki was once beaten, but he has gathered all his mystic powers to create a modern-day tyranny in Manhattan. Face your archenemy Kunitoki in the urban jungle and conquer him with your ninja skills. Transported to 1988 Manhattan by an unknown force, the ninja leader Armakuni must find a way to defend himself against the unknown dangers that lie before him. Will this be the final battle? Can you vanquish the evil Kunitoki once and for all?
Nintendo DSiWare
Clubhouse Games Express: Strategy Pack
Publisher: Nintendo
Players: 1-8
ESRB Rating: E (Everyone)
Price: 500 Nintendo DSi Points
Description: Prepare yourself for a lesson in tactics as you play through five strategy-based games in this Nintendo DSiWare version of the popular Clubhouse Games. Take on an opponent in the classic Backgammon, invade an enemy base in Field Tactics, sandwich your opponent's pieces to capture them in Turncoat, create strings of five in a row in Connect Five and guess where to attack your opponent's pieces in Grid Attack. Play by yourself or use DS Download Play to host as many as seven friends.
MySims Camera
Publisher: Electronic Arts
Players: 1
Price: 200 Nintendo DSi Points
Description: MySims Camera is a camera application that utilizes popular MySims characters. You can take photos and overlay 3-D MySims characters to bring them into the real world. The 3-D characters can be animated, moved, scaled, rotated and cropped. You can also draw on the photos with the stylus or use the stamp tool to add more art and style. Create a unique frame and save the photos to the Nintendo DSi Camera album to share with friends. MySims Camera is a fun, creative experience for the entire family.
Nintendo adds new titles to the Nintendo DSi Shop and the Wii™ Shop Channel at 9 a.m. Pacific time on Mondays. Users with broadband Internet access can redeem Wii Points or Nintendo DSi Points to download the games. Wii Points can be purchased in the Wii Shop Channel. Nintendo DSi Points can be purchased in the Nintendo DSi Shop. A Nintendo Points Card™ can be purchased at retail locations. All points from one Nintendo Points Card must be redeemed in either the Nintendo DSi Shop or the Wii Shop Channel. They are not transferable and cannot be divided between the two systems.
Remember that both Wii and Nintendo DSi feature parental controls that let adults manage the content their children can access. For more information about this and other features, visit Wii.com or NintendoDSi.com.