Bomberman Blitz Preview
Local and online play for up to eight plays on DSiWare. Win!
Bomberman is heading to DSiWare this October in Bomberman Blitz. The game brings over a lot of the features of past console and handheld Bomberman games, but for DSiWare.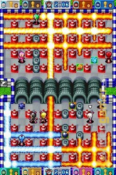 "Bomberman Blitz will give DSi owners an authentic, action-filled and entertaining multiplayer Bomberman experience anywhere they go," said Mike Pepe, director of marketing at Hudson Entertainment.
It will support up to eight players in local or online multiplayer. The matches boast a lot of customization, and the game's 10 maps span both screens. Players can also sharpen their skills by playing computer opponents or using the new training mode.

#Bomberman