The Nintendo Switch Chicago Preview Event
Friend of the site, Greg Meyer, had a chance to go hands on with the Switch at one of the exclusive events. In anticipation of tomorrow's release, he's put together a bunch of impressions to get you excited for what's coming next for Nintendo.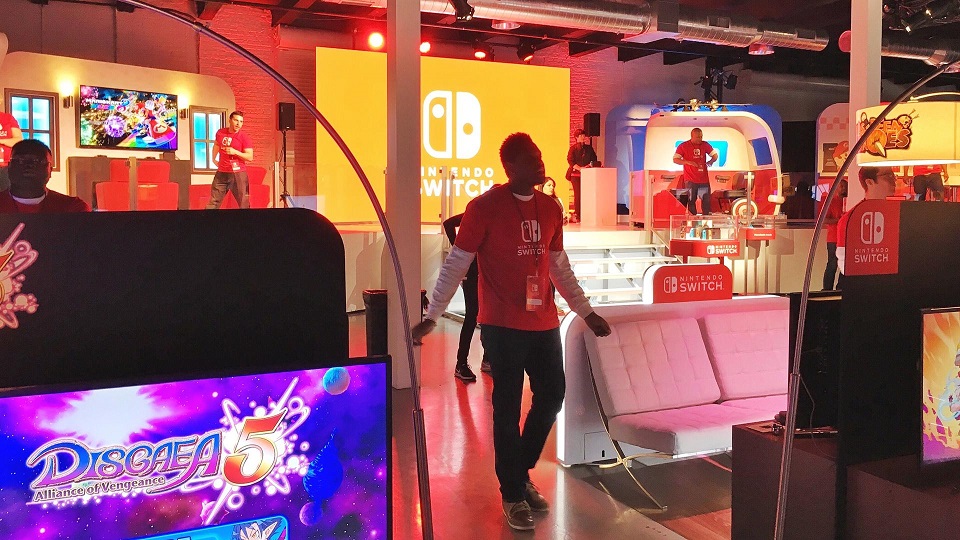 On Friday, February 17th, I had the opportunity to travel to Chicago and check out Nintendo's upcoming new system—The Switch, as well as fifteen different titles releasing within the Switch's first year. As a longtime fan of video games, I'd read about events like E3 and press preview events and dream about going to one of these one day. Since I'm not involved in games journalism and live in the Midwest, I never imagined I'd have a chance to attend a preview event. The only time I went to something of this level was Nintendo's E3 Best Buy event in 2013, where I spent three hours in line so I could play one Donkey Kong Country: Tropical Freeze level. When Nintendo emailed me an invitation to preview the Switch, I immediately snagged two tickets. When I left for the event with my friend Marcus, I expected something similar to that Best Buy preview.
When we arrived at the Revlon Fulton Market and entered the event hall, we were blown away at the spectacle before us. Nintendo went all out in decorating the hall, with huge areas devoted to their upcoming first party titles. In the center of the floor there were TVs and couches set up with staff stationed at each TV to explain the game demos for the fans. On the main stage, Nintendo built an array of situational sets, like a cluster of airplane seats with trays and a diner with tables, as well as a huge screen set up for promos and competitions between players at different times during the event. Nintendo also had displays with dozens of Switch consoles set up in the various ways you can play it. In addition, almost every demo station had multiple console and controller configurations for players to experience the demos. Players had the chance to play using the joy-cons, two joy-cons with grip, the Switch Pro Controller, and using the Switch in handheld mode.
Nintendo sent out only a limited number of invites to fans from around the Chicago area, and when signing up, I had to pick a timeslot for when I wanted to attend. This reservation strategy ensured the event never felt crowded and guaranteed the fans in attendance had the chance to preview as many games as they could during their time allotment. We never had to wait more than five minutes to try a demo, with the exception of The Legend of Zelda: Breath of the Wild. With Zelda, players received a ticket with a timeslot on it. Once my time came up, I waited in line for a minute as the last group filed out before I had my turn.
Nintendo showcased a variety of first and third party software that are coming out within this year. Even with my three and a half hours at the event, I wasn't able to play every single game available. The titles available were: The Legend of Zelda: Breath of the Wild, 1 2 Switch, Mario Kart 8 Deluxe, Arms, Splatoon 2, Snipperclips, Ultra Street Fighter II: The Final Challengers, Sonic Mania, Has-Been Heroes, Super Bomberman R, FAST RMX, Disgaea 5, PuyoPuyo Tetris, Skylanders Imaginators, and Just Dance 2017. Nintendo also had a booth for Mario Odyssey, but it only played the trailer from Nintendo's Switch reveal back in January.
Here are my impressions for the games I had the chance to play. As much as I wanted to try 1-2 Switch, PuyoPuyo Tetris, Has-Been Heroes, and FAST RMX, there just wasn't enough time.