Lollipop Chainsaw Preview
Don't tell this cheerleader that zombies are overexposed.
Suda 51 has never produced what one would call a 'normal' game. Pairing odd subject manner with hyper-stylized aesthetic in games like Killer 7, No More Heroes and Shadows of the Damned, the fruits of the famed developer's labor have struggled to find any kind of sizable audience. Perhaps it makes sense then that Suda's next game, Lollipop Chainsaw, while sporting a strange title and a concept that may still be considered a departure from the norm, is his most mainstream title yet.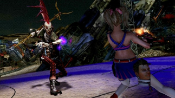 Let's be clear- Warner Bros. Interactive is certainly taking a risk by publishing a game starring an airhead cheerleader that is forced to battle the living dead with nothing but her pom-poms and a bedazzled chainsaw, but with the current social craze surrounding The Walking Dead and all things zombies, it's easy to see how the reward could outweigh the risk.
Lollipop Chainsaw is packed with little nods to the decades of undead source material that it uses as its inspiration. Our central heroine, zombie killing cheerleader extraordinaire Juliet Star (voiced by Tara Strong), arrives at her old high school, San Romero High (of course), only to find it overrun by zombie hordes controlled by the goth kid turned sorcerer, Swan.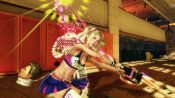 Joining in on the action is Nick, Juliet's boyfriend who follows her everywhere on account of being a disembodied head hung from her hip. It's this kind of thing that begins to separate Lollipop Chainsaw from the rest of the hack-and-slash zombie killing fair that is so prevalent these days. Those uncomfortable with Suda 51's unique brand of sexualized, off-kilter humor may wish to steer clear, but those who appreciate it will undoubtedly find themselves in stitches as the James Gunn (Slither, Dawn of the Dead 2004) penned script begins to flesh out the games absurd plot.
Juliet possesses two different types of attacks: light and heavy. Using a series of light attacks – punches, kicks, etc… - you can herd zombies into groups that can be taken out all at once using a heavy – chainsaw – attack. Herding is the key to success, as taking out more zombies with a single stroke of your fabulous chainsaw is not only rewarding in a visceral sense, but it pays off by replenishing your star meter faster at a faster rate.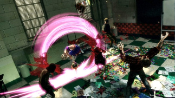 The star meter, which is filled by brutalizing zombies and saving helpless bystanders, can be used to unleash devastating super attacks which are far more effective than your normal tactics. Nick is also willing (okay, perhaps not willing per say) to lend a head in combat and can be used as a long range attack by kicking him at enemies.
All of this is done with the kind of flair that we've come to expect from Suda 51. Juliet's chainsaw arcs through the air with a rainbow trailing and almost everything she does sparkles somehow amongst the flying limbs, spurting blood and the odd decapitated head that isn't strapped to Juliet's waist.
Juliet's grindhouse romp through a zombie infested high school is promising. So long as the gameplay keeps from getting stale over time, Lollipop Chainsaw is looking like it could be Suda 51's first genuine hit. We'll find out when the game is released on Xbox 360 and PlayStation 3 on June 12, 2012.