No More Heroes Review Rewind
RECOMMENDATION:

Everyone that enjoys a good action title that doesn't frustrate easily should give this game a go. Everyone else should urge a friend, family member, or significant other to play it in their presence, it's still a fun experience... well, at least the boss fights.

I definitely missed the boat with No More Heroes. Sure, I bought it near release, but the best I ever did was wipe out the first boss and get into a few side jobs. Other things seemed to come up and the game got shelved indefinitely. As we all know, the second title in the series has just been released, which incidentally acted as a pretty good motivator to go back and finish what many called one of the Wii's greatest games.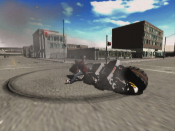 With such a high honor to live up to, I was skeptical about the game's quality, especially after a few minutes on Travis' motorcycle. Thankfully, things took a turn for the better as I made my way to the second boss, Dr. Peace. The game's mechanics started to feel smooth and the characters and dialog became both interesting and funny - in a B-movie sort of way. By the time I made my way to Shinobu, I felt fairly comfortable with the controls and had a pretty good handle on how to succeed in the game.
Shinobu, as many might remember, is probably the hardest fight in the game. After a number of losses, my feelings for the game were taking a nosedive. Control, camera, and targeting issues that were once a minor annoyance became a source of great frustration. As I started to get an even better handle on how all of these things worked and began improving my skills, the game seemed to auto-correct. Each time I'd do well, she'd come disturbingly close to insta-killing me with her 5x sword shooting move. Further frustration came from this until, in a stroke of luck, I managed to win the fight.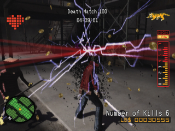 As the game progressed further, most bosses felt manageable compared to Shinobu, and I was able to enjoy the game's ridiculous plot, the outlandish bosses and the insane environments. Then, just like everyone else, somewhere along the way, I became totally hooked on the No More Heroes experience.
Yeah, having to do the Side Jobs and the Assassination Gigs sucked, and yeah the motorcycle controls weren't really perfect, but all that stuff seemed like a necessary evil to have more fun in the boss areas.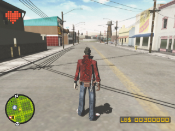 Of course, these boss areas weren't without their faults as well. Boss levels before the fight were at times extremely annoying. The beam katana-wielding enemies could easily overtake me in large groups and these foes tended to appear in rooms right before the boss fight. This, naturally, forced me to redo the entire level to get back to the boss. Just another source of frustration, but definitely not enough to dissuade me from pushing onward.
In a nutshell, No More Heroes was truly a great game, but extremely rough around the edges. Honestly, it's a little frustrating because some small touches could've greatly improved the game. It's too bad that Wii games can't be patched because I'm sure some camera fixes would've gone the furthest. Rolling while targeting was always a major issue at distances from a boss, and one false move could easily ruin the match.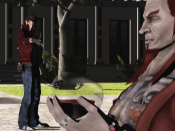 I sometimes wonder if Suda & company purposely only go 90% with their development in hopes that the rough parts make the game more endearing to fans, similar to some movies, like Snakes on a Plane. It's not a totally bad idea, and it seems to fit their mantra, but I think everyone would be happier with a tighter product. While I adapted to the issues found in No More Heroes, I would've much preferred to have some better camera work, targeting and controls.
For anyone who hasn't played No More Heroes, I heartily recommend it. By no means is it a perfect game, and it most definitely has issues, but it's a blast while it lasts. With completion of the first title I'm greatly looking forward to the second and hope that it fixes the various issues that were apparent in the first while maintaining the magic that made the original so much fun.