Transformers: Fall of Cybertron Preview
Now all we need is a little energon, and a lot of luck.
In a world where so many licensed properties are turned into video games to coincide with a movie release date for a quick buck and low expectations, it's rare to see an IP leveraged for all it's worth. That was the case with 2010's Transformers: War for Cybertron. The third person shooter wasn't tied to any current movie, cartoon, or toy line, which gave developer High Moon Studios the freedom and time to create a high quality game set in the expansive Transformers universe. It stood out, and did for the Transformers what Arkham Asylum did for Batman. High Moon is at it again, and this time the war has become much more urgent. The battle between the Autobots and the Decepticons has taken its toll, and soon Cybertron will fall.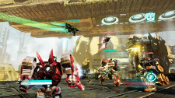 War for Cybertron was an extremely competent game that had some nagging issues, such as limited ammo, generic level objectives, and characters that didn't get much chance to shine in their own right. High Moon looks to address all of these issues while bringing the final moments of Cybertron on screen in an epic way.
This time around, each level is built around a specific character. You'll once again be able to choose between the Autobot and Decepticon campaigns, each with their own stories, levels, and goals. Only by seeing both sides of the conflict will you have the entire story, and during these campaigns fan favorites like Bumblebee and Starscream will have their moments in the spotlight.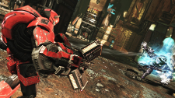 Cliffjumper stars in a level that leverages his speed and subtlety; his stealth armor allows him to get in close for a quick melee kill, and when the chips are down he can zoom around picking Decepticons off. Grimlock on the other hand prefers the head on approach. He towers over even Optimus Prime (thankfully once again voiced by Peter Cullen) and utilizes his massive energon sword to cut huge swathes in the Decepticon ranks. Defeating enemies powers up his special transformation meter, which in turn allows Grimlock to transform into "space t-rex" mode. As a long time Transformers fan I'm curious as to why he has his Earth alt form instead of being a large war vehicle, but considering how much destruction he can cause in this mode I'm willing to roll with it.
Having a gigantic space t-rex isn't the only example of Fall of Cybertron's sense of scale. At least one set of combiners (Transformers that merge into one super soldier) is present in the game. At some point in the Decepticon campaign players will have a chance to take control of Bruticus. This titan of titanium towers over his opponents, but he's not the biggest gun in town; how do you feel about controlling the massive Autobot city, Metroplex? Yeah, I have a huge grin on my face, too.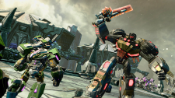 War for Cybertron had an interesting suite of multiplayer modes, including 3-player co-op and a host of team and free-for-all matches. While these modes were a lot of fun, they simply couldn't maintain the large and dedicated audience that more multiplayer centric shooters enjoy. After a month or two very few people were diving into multiplayer. High Moon has been oddly silent on this aspect of the game, but the focus on one character in each level would indicate that they've decided to focus on single player. I think this is the correct course of action, and hopefully having the entire studio dedicated to making an engrossing single player campaign will improve the game as a whole. With that being said, I did have a lot of fun with the multiplayer mode in the previous game and wouldn't be upset if High Moon worked it in again.
This take on the popular Transformers property is forging its own path. It's not based on any one canon of the multiple iterations of the franchise, which gives it a unique opportunity to give people the best of all facets of the Robots in Disguise. Hopefully High Moon can tap into that one secret ingredient that has kept people enamored with the Transformers since 1984—the characters. Cars that turn into robots will always be cool, but getting to a point where you care about why they do this is the key to success. The cartoon started it and the comics continued it, and High Moon has the potential to live up to it.
---