ZombiU Preview
How long can you survive?
Ubisoft is showing up big on the Wii U. With eight different titles either being ported to, or developed specifically for the system, the publisher has laid down a heavy bet on Nintendo's next console's success. With so many titles being produced, you'd be forgiven if you thought that perhaps games were being rushed and that not anything terribly unique would be delivered, but one title in their arsenal, ZombiU, seeks to prove you wrong.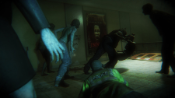 At an initial glance ZombiU doesn't appear to be anything special. It's just another zombie game in a video game landscape where they're as common as non-specific action figure memes. But once you sit down and actually dig a little deeper you'll find that this isn't just any zombie game; this title could change the genre forever.
The game's setup is familiar enough. A plague has swept over London, turning the once living population into frothing, bloodthirsty zombies. Hundreds of thousands die almost immediately, while others are infected in the following days. Amidst all the chaos, the game presents you with a singular task – survive as long as you can.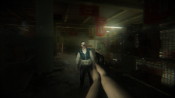 Veterans of Resident Evil, Dead Island and a myriad of other zombie franchises will tell you that, as the protagonist, you need not fear the bite of a zombie, because you're a unique snowflake – immune to the horrendous plague that touches everyone else quite readily. ZombiU turns the concept of an immune protagonist on its head and returns to the horrific concept that a single bite means death; a slow and painful one at that.
In ZombiU you don't control a single character. You're instead put in charge of a group of survivors and you'll take control of them one at a time, playing each for as long as you can keep them alive, which isn't likely to be long. When you are bitten – and you will be bitten at some point – it's game over for that character and you'll wake up in a new body to try again. Any equipment held by the previous survivor can be recovered, but you must hunt down that now walking corpse and kill it to retrieve the contents of its backpack.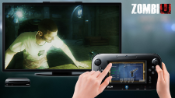 The backpack, or Bug-Out-Bag (BOB) as it is referred to in the game, is the key to your survival. Represented through the Wii U GamePad, you'll use this took to access your inventory, any maps you may have, med kits and other tools of survival such as a sonar that can be used to locate zombies or other humans in the surrounding area. The GamePad serves as your solitary hub and access point for all your equipment. Using it doesn't pause the game, so the tension is sure to rise as you steal glances down into your bag while zombies are about.
Multiplayer makes an appearance as well through Survivors Vs. Zombies adversarial mode. Player one will take on the role of Zombie Master and is presented with a top down view of the action through the use of the GamePad. From this view they will spawn enemies and traps to ensnare the second player.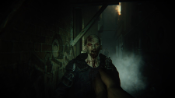 Player two, using the Classic Controller (perhaps even the Pro Controller), views the game in a first person mode and fights for their survival – hoping to outwit the Zombie Master and live through the night.
ZombiU seeks to reinstate the tension and terror of a survival horror genre that has been treading more and more into action territory. By giving death a much greater consequence, players will have to be more cautious and less cavalier if they want to survive this apocalypse.