Disney Epic Mickey: Power of Illusion Preview
Reality Is What You Paint Of It.
Epic Mickey was released in 2010 to extremely polarizing reviews. Junction Point aims to address the criticisms of the game in hopes of reaching a larger audience with Epic Mickey 2: The Power of Two. In addition to the console sequel a portable game for the 3DS from developer Dreamrift was revealed at E3, and while it shares the same concept as Epic Mickey, this title is mostly inspired by the Sega Genesis classic Castle of Illusion.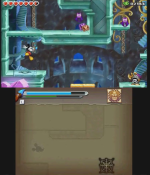 Like in that 16-bit fan favorite, Mickey will face off against Mizrabel, who resides in Wasteland and attempts to escape by using the Castle of Illusion to drain the life essence from currently famous Disney toons. Mizrabel resembles Malificent from Sleeping Beauty, although originally she looked more like the Evil Queen from Snow White and the Seven Dwarfs. The location of Wasteland--a collection of forgotten Disney characters and theme park attractions--now adds forgotten video game locales with the addition of the Castle of Illusion.
The game is a 2D platformer that will make use of Castle of Illusion's platforming as well as the paint mechanics of Epic Mickey. From what was shown in its E3 2012 gameplay trailer, platforming seems solid if a bit slow paced. Paint and thinner will still be used to progress through the world as both a weapon against enemies and for adding or removing objects. The stylus will be used to draw or erase objects on the bottom screen while the action plays on the top. Your creations can then be moved onto the top screen and then be interacted with.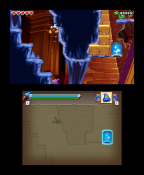 Levels will not only take place inside the Castle of Illusion but also in other Disney worlds such as Neverland from Peter Pan and Agrabah from Aladdin. As such, you can expect to run into plenty of Disney characters along the way, such as Goofy and Scrooge McDuck. Other characters will help you in your journey, with Peter Pan shown as an early example. In between levels, players will be able to build their own fortress that will grow from a fort to a full blown castle.
I'm a big fan of the Illusion games on the Genesis and this looks to recapture what made those games great while expanding the locales and adding Epic Mickey's paint concepts. It's interesting enough that there's Mickey Mouse games being made, let alone one based on an over 20 year old title. I'm looking forward to hearing more about this title, as not too much is known at this time. Thankfully, we won't have to wait for long as Epic Mickey: Power of Illusion will be released this Fall on the 3DS.