Marvel Heroes Hands On Preview
True believers, I present an MMO worth your consideration.
I love super heroes and I love video games so naturally whenever there is a combination of the two, I get excited. Though the results aren't always favorable, there are a host of games that do our heroes justice. MMOs on the other hand have been a different beast, mainly hitting their stride a few years back with City of Heroes. Last year, DC took their chances in the MMO space with DC Universe Online, which has had decent success. While that game operates much like you would expect, Marvel has enlisted Gazillion Entertainment to helm their super powered MMO. Headed by Diablo creator David Brevick, Marvel Heroes combines elements from dungeon crawlers like Marvel: Ultimate Alliance and the Diablo franchise to create something that has the potential to be great.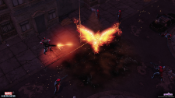 The best and most important part that should be noted about Marvel Heroes is that it's completely free to play. Everything in the game can be accessed through free play, and there are absolutely no restrictions. Some things like characters and costumes can be bought with real money if a player wants, but they can unlock these through progressing through the game as well. It may be more difficult and time consuming, but in the end it's all up to the player. This is a bold model, but one that has seen success with other games like League of Legends, so we will see how it pays off for them down the line.
Unlike most MMOs, players will chose from one of the many characters within the Marvel universe to play as. Yes, this does mean that in some cases, there will be multiple people playing as Iron Man or Hulk but the result is a lot less annoying than you would assume. To combat possible confusion, there are plentiful amounts of costumes to choose from, making it reasonably easy to personalize your character. These costumes are taken from each character's long history in Marvel and since Gazillion has access to just about everything in the Marvel library, players can expect to find their favorites making an appearance. The same thing goes for characters as well. Though there were only eight characters available in the demo, and only a little over 20 characters currently announced, Gazillion says there will definitely be more on the way. NYCC saw the announcement of Nova, Jean Grey and Luke Cage, with promises that they've still only scratched the surface when it comes to playable characters.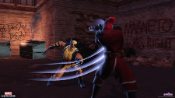 In my demo, I opted to play as Ms. Marvel. Controls are extremely simple and accessible. To move, you click on the field and your character moves to the destination. The left click, right click, and A, S, D, F keys are all designated to special attacks. Q is used for healing items and that's pretty much it. Upon accepting a mission, you enter a zone and fight off enemies, and look for items to progress through a level. Each zone usually contains a boss, like Electro or Shocker. Fighting them by yourself is fine, but with a group it becomes not only more difficult, but more fun.
Each character has qualities that help them stand out. Characters like Iron Man excel at long range. Hulk dominates up close, and characters like Ms. Marvel share qualities of both. During the panel, the designers brought up that people worried that characters like Hulk and The Thing would be too much alike. While they are similar archetypes, they have abilities that highlight different strengths. Hulk is exceptionally good at solo play, while The Thing is better at working with a group since he has abilities that emphasize team buffs.
While my time with the demo was short, it was easily one of the most fun games I got the chance to play. The formula is simple and accessible for all players and tied in with the long lineage of Marvel lore. That storied history is bound to attract a great amount of players when it finally launches. Players interested can sign up on the Marvel Heroes website for the closed beta with talks that an open beta will be released sometime in the future.