Food Network: Cook or Be Cooked Hands On Preview
Cook up your favorite dishes both in-game and at home.
Most of us watch shows like Top Chef or Food Network Challenge and wonder how they do it. Well now you can get hands-on experience cooking like a pro. Including over 30 Food Network approved recipes, Food Network: Cook or Be Cooked boasts an impressive array of meals ranging from breakfast to dinner (sorry, desserts not included!) that can actually be taken directly into your kitchen and replicated. Gameplay occurs in real-time to mirror the actual cooking process, but can be sped up if you so desire.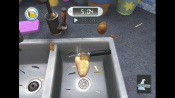 Using both the Nunchuk and the Wii Remote simultaneously, this game gives you the real feeling that you are performing each of the required tasks. Most of the tasks are done with the Wii Remote, such as turning the dial to turn on a stove, chopping vegetables, or flipping a quesadilla. With a flick of the nunchuk you either start a new task or initiate the next step in the preparation or cooking process. In order to increase the difficulty, developers added a speed and accuracy element which is also used in scoring. Flick the Wii Remote too hard and your dish can be flooded with salt; wait too long to start the next task and you'll lose points. Overall, the controls handle very well and should be easy for anyone to pick up
Adding another element of difficulty to the game, developers have added the dimension of multi-tasking. In each recipe, you will be required to complete a number of different tasks, all that can be done simultaneously. For example, you can put a quesadilla on the stove to cook and start making the salsa and guacamole to accompany it, racking up points and increasing your overall score. The more tasks you do at once, the better your dish turns out, which is important if you want to impress the in-game judges.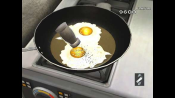 Like many Wii games, this game is not for your typical gamer. It's targeted for families and all those who like to cook, but according to Namco Bandai, can be enjoyed by anyone. As an added bonus, all recipes can be played in co-operative or competitive mode. If you so choose, you can grab a friend and work hand in hand to complete a dish, or face off head-to-head and battle each other to see who is the Food Network Champion.
Thanks to the real-time gameplay and the real world recipes, players can cook along with the game at home and prepare the meals just as they do in the game.
Food Network: Cook or Be Cooked will be heating up store shelves on November 3.