Super Meat Boy Preview
There's not much that can be said about Super Meat Boy that fans and gamers interested in the title don't already know.
While I, personally, didn't receive hands-on time with the game, I can say it looks like it'll play a lot like the flash-based version of the game plays. That means quick, reflexive platforming, wall-cling-jumping, and lots of blood every time Meat Boy dies. New features include instant replays of every attempt to complete the stage all at once, a newer, sharper, sleeker art direction for Meat Boy and the gang that looks great and fluid in action, and even boss stages, though I didn't get to see any in action.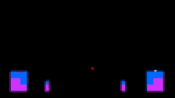 As insignificant as it is, I have to say caged animals wound up becoming my favorite addition to the game: Take Meat Boy to their cage, and simply enough, it'd open, and the little animal, like a rabbit or a squirrel, would run out. Chase after the animal, and it'll run away, straight into something like a buzz-saw, splattering blood, just like what Meat Boy does.
On the show floor, some of the other characters were selectable, but unfortunately, those who played the game never choose them, and I wasn't able to see what their abilities were. Oddly enough, the director of Xbox Live Arcade was under the impression the title was exclusive to XBLA, but as of press time, the game still seems to be headed to WiiWare as well.
If you'd like to preview Super Meat Boy, the best method may be to just play Meat Boy. If you enjoy that, or think you might with a video game controller, then you'll probably enjoy the main game, since it's close to the same thing, but more fleshed out, no pun intended.