The Adventure Pals Review
RECOMMENDATION:

If you're into lighthearted and feel good games, much like the LEGO franchise games, The Adventure Pals is definitely worth a look.

In a land of menacing hot dogs and monster wildlife, a young boy is tasked with a great quest to save his Papa. This concept of a dangerous journey and humbly accepting a noble enterprise to save a loved one is not new to video games. The Adventure Pals, however, takes on a unique perspective to this theme by weaving in characters and scenes that keep you moving quickly through an exciting world.
The Adventure Pals is an action/platformer game that introduces the player to Wilton, a young boy about to celebrate his birthday. The day takes a dark turn as the evil Mr. B kidnaps his Papa in an attempt to turn all old people into hot dogs and take over the world by destroying friendship. In order to defeat Mr. B, Wilton must learn the importance of friendship, and that no adventure is complete without friends to help along the way. In this adventure, his friends are Mr. Rock, a pet rock, and Sparkles, a giraffe he gets as a birthday present…because who wouldn't want a rock and a giraffe as friends? From here the game sets into motion a series of tasks and levels that Wilton and his pals must complete for a variety of characters he meets along the way, in order to save his father. Dangers lurk, though, as Wilton's path crosses with bandit camps of rogue forest creatures or sea monsters who work for Mr. B and try to stop Wilton from completing his task.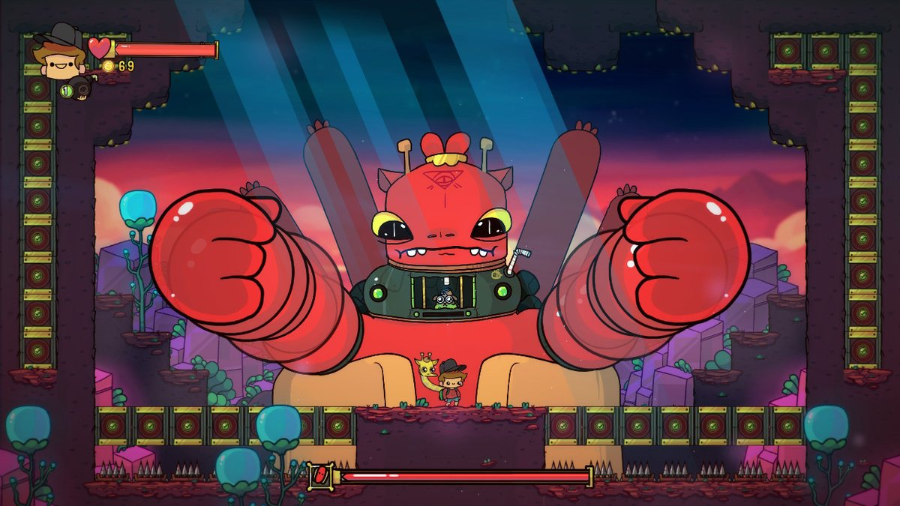 Levels are structured elegantly with ups and downs in forests and under the sea, where your main objective is to get from point "A" to point "B", picking up coins and other goodies along the way without taking on too much damage. Death will result in being bounced back to the start of the level and you'll be forced to do it all again. While your traversal through the levels and, ultimately, the game, is attack oriented, the fighting when encountering bandits is shallow. Weapons like your sword and an arsenal of bombs cater to quickly attacking and avoiding enemy ripostes, so I found myself just repeatedly pressing the same buttons alternately to attack and jump.
Monotony tends to set in when learning new jumps or gaining new abilities comes to a crawl. As you level up, even your loyal friends achieve skills to help you out. From Sparkles' ability to use her helicopter tongue to slowly descend from a jump to Mr. Rock attacking far away enemies, this adventure truly becomes a team effort. Like most games, items are collected to gain skills and level up. Here you gather coins to purchase healing potions or bombs; cupcakes are a harder find, but yielding enough will allow outfit changes for Mr. Rock and even rarer, but satisfying collectibles, are stamps that you add to a stamp book to reminisce on your adventures.
These levels encompass a world filled with interesting places like Panini Park and Shellsinki, and don't disappoint in the dialogue between Wilton and the friends he makes as his journey meanders from one place to the next. I was happy to see the effort taken in the writing and delivery of these encounters as dry humor and odd-ball jokes stealthily make their way into conversation.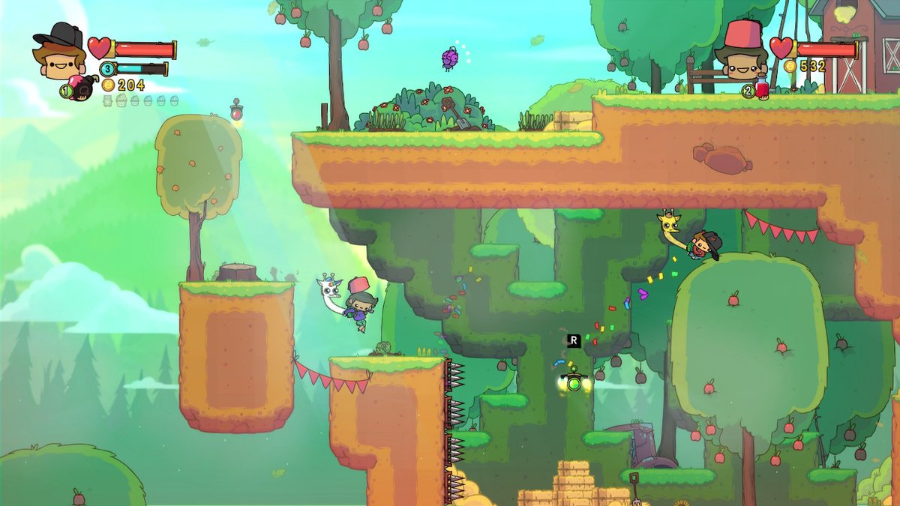 The bright colors in design and well-crafted towns suck you in and play goes fast; playing intermittently, in less than a week and during a span of 12 hours I finished the game. Once you save Papa and collect all the cupcakes and stickers to complete your collection, the game just ends, offering little to no replayability. There are no new worlds to explore or side quests to journey through. You can always go back to replay levels, but the excitement wears off since they become so familiar.
Twice I also experienced a software error that kicked me off the game and had to restart. My progress, however, wasn't lost. A 2-player option is available, but I didn't find the second player to get much attention as you essentially go through the same motions only with someone following you. There's no individuality to leveling up and the second player gets ignored during conversation and boss fights.
While the game has its drawbacks, one can't help but enjoy its story and themes. Friendship is always at the forefront of The Adventure Pals and Wilton learns some solid lessons on trust and kindness throughout. With such approachability, I'd say it's worth the cost for players of all ages. After all, video games are meant to be fun and take you to new worlds. The Adventure Pals does this charmingly while simultaneously helping you connect with its characters and their relationships.