Marble Saga Kororinpa Review Rewind
RECOMMENDATION:

Marble Saga Kororinpa is for anyone with a hint of patience, whether new to video games or a veteran gamer.

The makings of Marble Saga Kororinpa are very simple. The Wii Remote is a stand-in for an on-screen table, and tilting the Wii-Remote tilts the table. The basics are that simple, but the execution is, without a doubt, remarkable. In addition, players can make the marble bounce with a flick of the Wii Remote, and on-stage hazards and objects vary the game's mechanics, creating over a hundred unique and fresh stages for any fan of skill-based puzzles.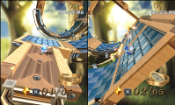 What's better is that Marble Saga Kororinpa has three difficulty levels, which throw even more variation to each original stage. The easy mode adds rails and sides to trouble spots found in all the normal stages, while the hard mode completely redesigns the normal stages, removing most, if not all rails, and adding in extremely difficult twists to concepts first appearing in easier modes.
I was surprised to find each world felt unique, too. The ice world is full of slippery patches in each stage, while the haunted house-based world is filled with objects and stage pieces that act spooky. The differences between stages in one particular world and another aren't always so grand, but still, each world has its own charm, and feels unique in a way I wasn't expecting when I began playing.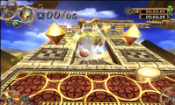 While I've mentioned the various difficulty levels, it's worth noting that each stage, on every difficulty, has four times to beat, netting a bronze, silver, gold, or platinum crown. In nearly every case, completing a stage quick enough to earn a platinum crown requires clever planning and quick reflexes. Between the completion of all three difficulties and the earning of a platinum crown in every stage, Marble Saga Kororinpa offers what might be dozens of hours of gameplay for anyone who's willing put in any effort.
Even more, Marble Saga Kororinpa offers split-screen, simultaneous four player capabilities, allowing groups to compete on any course, with each player choosing his or her own difficulty, to add a bit of balance for better players. In addition, through finding hidden objects in single-player stages, creative players can unlock stage pieces and even construct up to twenty of their own stages, and receive up to twenty more from Hudson and friends online!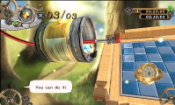 Of course, no game is perfect, and Marble Saga Kororinpa does have a few flaws: While the game's controls work perfectly, once the player begins to tilt the Wii Remote upside down, the game's camera becomes a bit unreliable. At first, I thought the Wii Remote wasn't tracking right, but some experimentation showed the issue was completely with the camera. Additionally, playing the game's few balance board stages offers significantly less fun and control than simply using the Wii Remote. I also found myself longing for a few more checkpoints in stages through the normal mode, but that's just a minor qualm I had with difficulty.
I can't stress enough that Marble Saga Kororinpa was one of the most fascinating and fun experiences I've had on the Wii. I've always been a fan of puzzle games, and much of the game is about figuring out puzzles, but it offers much more than just that. I truly believe any gamer out there can have tons of fun with the title, and everyone who doesn't own it or hasn't played it should make some attempt to at least give it a chance.