Zeno Clash: Ultimate Edition Review
RECOMMENDATION:

Zeno Clash is definitely a unique experience, but the high price tag makes it hard to suggest to everyone.

It's not often you find games that have worlds so crazy and unique that you're dumbfounded upon sight. I can honestly say that Zeno Clash has one of those worlds. It's almost like Alice in Wonderland, just crazier and seemingly more acid-induced. Don't get me wrong, the world, story, and characters are easily the most alluring part of the game, giving players the drive to push through to the end in just one or two sittings.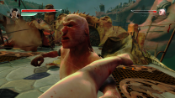 Zeno Clash is a first-person-brawler that also features some light shooting elements. Though other games like Red Steel 2 have attempted this formula, Zeno Clash does a good job of nailing it. Players take control of Ghat, a child of Father-Mother who has committed an unthinkable crime. After learning of a deep secret, Ghat kills Father-Mother, and subsequently is ran out of Halstedom (his home town) and hunted by his brothers and sisters. Over the course of his adventure, Ghat recounts the steps that led to the killing of Father-Mother, all while progressing toward the end of the world.
Throughout the course of Ghat's adventure he encounters many enemies, ranging from his brothers and sisters, to the Corwids, as well as others. The majority of these enemies will need to be defeated using hand-to-hand combat. Though the game will often give players access to both primitive guns and grenades, their impact is minimal, and enemies are excellent at disarming and inflicting heavy damage in the process. I truly felt as if I was taking a risk if I used a gun in the game, which to me is a great success in the design of Ghat's moveset. It's not often that a game can empower you with a weapon, but make you feel as if there may be consequences from its use.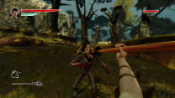 As such, players will be fighting hand-to-hand often, and these mechanics also feel great, especially at the beginning of the game. Because the camera has been tied closely to the mapped move, the actions feel very visceral and engrossing. Unfortunately, I didn't find that over time the game grew much more challenging. I was able to maintain an offense-based technique through to the end of the game and I still found the same success I did at the beginning. The game kept hinting to me to use more dodges and blocks, but I didn't find it to be necessary thanks to the many health pick-ups. This created for some tedium unfortunately, and is easily one of the worst parts of the experience.
Perhaps linked, Zeno Clash seemed to suffer from some small pacing issues, wherein certain parts of the quest felt a bit drawn out. As the game pressed on, this started to become a bit frustrating. Given the very short 4+ hour length of the game, it's my guess that the developers purposely lengthened certain areas in an attempt to prolong the experience. While understandable, the experience would've been tighter if those tedious or drawn out parts were simply omitted.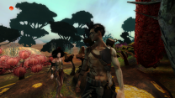 Thankfully, Zeno Clash's story, characters, and setting were interesting and engrossing enough that I felt strongly compelled to reach the end of the game and learn of the secret that led Ghat to kill Father-Mother.
Extending the experience past the limits of the single player quest is the co-operative challenge mode, which allows two players to complete a number of combat-based challenges. While this mode gives players some more time in the Zeno Clash world and allows them to acquire some more fighting time and experience, I found myself not enjoying the mode much. After playing the entire quest, I was in no mood to continue fighting, especially when I already had it down to a science. Though not a great direct follow-up to the adventure, it's likely that this mode will provide the experience that players come back for after some time off from the game.
Zeno Clash is an above-average experience, thanks in large part to the provacative story and characters. Those looking for something a little off-the-wall should definitely give Zeno Clash a shot, though I'm not sure it warrants its full price tag.