Transformers: Dark of the Moon Review
RECOMMENDATION:

For anyone looking for a quick, fun game. Just try to get it used or rent.

I was more than a little excited to get my hands on Transformers: Dark of the Moon. Most of that came from a deep curiosity to see how High Moon Studios tried to improve upon last year's Transformers: War for Cybertron, a game that I felt had the needed components to make a really solid game but just failed in the execution to deliver a complete experience.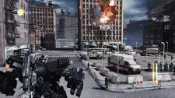 So the big question, is Dark of the Moon a better game than War for Cybertron? Technically yes, the execution and controls have improved, sometimes remarkably. Unfortunately it seems all the technical improvement work took away from any attempt at a strong story or improved level design leaving us with a solid rental.
Dark of the Moon is in essence a prologue for the third film in the series, which actually hampers the story. Either High Moon was never told what the movie was going to be about or was not allowed to use any of it because the only thing the game reveals to us is that the remaining Decepticons are hiding out on Earth, gathering themselves in a search for something that has to do with the moon. That's it; even the ending of the game doesn't give a strong reveal what it is, provides no real winners in the conflict, and just leaves it open for the movie to tell us how things play out (with it being a Michael Bay film I will probably still be just as confused AFTER seeing it). Essentially you are playing a giant commercial.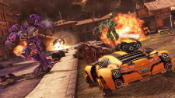 The campaign has actually become somehow shorter than the first game, wrapping itself up around three to four hours, which is below even the short standards of most games these days. It is divided amongst seven chapters where you play a different transformer each time. Each robot has unique capabilities that provide some different flavor in each level, especially ones geared towards making use of those abilities, but nothing that really forces a mass change in playing style. You ultimately are just going through an obvious path in a short level, shooting or crushing opponents that get in your way.
A very nice addition to the combat of the game has been the inclusion of a third mode for each transformer. In addition to the vehicle mode and robot mode you now have something called Stealth Force. This is almost a hybrid mode where you are still in vehicle mode but have your weapons revealed and your wheels can pivot 360 degrees allowing you to strafe and stay armored. Essentially this gives you three methods of play: heavily armored and fast but little maneuverability and no attacking ability besides ramming as a vehicle, less armored and quick but with the ability to strafe and use weapons in Stealth Force, or lightly armored but with more powerful weapons, special abilities and melee as a robot. Each mode has its own purpose, which is very obvious in multiplayer, and it is up to you to use them as effectively as possible. The game does an excellent job of allowing you to quickly transform between any of the modes and there are some truly fun moments of being able to run down one foe, transform into a robot to deliver a spinning melee attack and then hop into Stealth Force and launch a volley of rockets at someone else.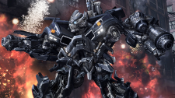 Each robot form has two rechargeable abilities: one is usually a large blast, high damage attack that can be recharged only by killing foes and the other is usually something more utilitarian like cloaking or melee and will recharge naturally over a set time. One important thing of note for the game is that High Moon got rid of ammo and just let your weapons recharge, obviously they read my last review.
Something that failed to be improved upon however is the atrocious AI. Enemies will still just walk into your general vicinity and stay motionless as they fire hoping to take you down with pure strength of numbers. This is even more ridiculous in the second game as the added maneuverability of Stealth Force makes you feel as if they are stuck in slow motion and even the hardest difficulty will be a breeze to get by as long as you're careful about using hit and run tactics to protect your fragile health.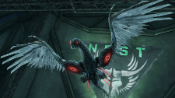 The graphics have been somewhat improved but not by much. The robots still look good with intricate moving parts and detail but the scenery has stayed relatively washed out and indistinct. Each level is very bland and has little surprises, although the color palette has improved quite a bit. The weapon sound effects have improved and feel powerful while the voice acting has stayed as strong as ever with Peter Cullen leading the way.
In addition to the very short and unsatisfying campaign the game provides the three different multiplayer modes common in so many games now: Deathmatch, Team Deathmatch and Conquest. There are five maps and as you play you unlock abilities and perks for the class you are playing, of which there are four: An average-in-everything commander, fast but weak scout, flying hunters and a powerful but slow warrior. The fighting is very frantic and fast paced but fun, unfortunately you can completely level up a class in a few hours, which eliminates a lot of long term play that games like Call of Duty evokes. Taking away the escalation mode from the previous game was also a very big disappointment; I love that game type and was very curious to see how Stealth Force would change things around.
If you like the transformers franchise you will have a pretty fun time with this game if purchased used or rented for a week. However the incredibly short length and lack of replay options means you will feel cheated if you invest too much into it.