Thor: God of Thunder Review
RECOMMENDATION:

For 6 year old kids who don't know any better, otherwise don't bother.

I've had the pleasure of not having to play many terrible games. Unfortunately for me, Thor: God of Thunder added to my personal short list of gaming atrocities. Movie games are notoriously bad, and Thor does nothing to break the mould. With frustrating gameplay choices, unresponsive controls, mediocre graphics and presentation and to top it off, impossible scenarios that prohibit players from being able to finish the game, Thor is full of problems that result from rushed development.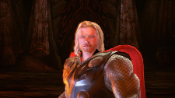 Thor: God of Thunder acts as a prequel with events that lead up to the movie's plot. Generally the plot is a standard affair in which Thor must defeat enemies (in this case, Frost Giants and other creatures) in order to protect Asgard from destruction. Ultimately it is thor-oughly weak and forgettable.
Gameplay is one aspect of Thor that could have been very good, but instead settles for mediocre at best. Thor plays like games such as God of War and Dante's Inferno, where you have your standard attacks that can be followed up with certain button combinations to do bigger combos. This is accompanied by quick time events, grab combinations and Thor's trademark powers over thunder and lightning.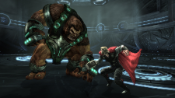 At first the game seems to play fine, but as the hours accumulate, the fighting becomes boring and dull. Unlike the games that it takes inspiration from, Thor's battles are not only boring but buggy, with certain combinations not working properly. Also, powers don't flow as smoothly into battle as they should. The boss battles try to put an interesting spin on the usual flow of battle, but because of gameplay issues and a lack of polish, they end up being more frustrating than fun. Aside from the battles, there are slight puzzle elements and even a forced "shooting gallery" styled mini game worked into the flow of the game. These parts often feel like gimmicky filler and get boring really fast. It's just plain bad all across the board with jumping that is non-responsive and awkward, defensive options that are lacking, and counter moves that are flawed.
I must say however, that the worst part of the game has to be within the final moments where you are tasked with saving Asgard, the Norse capital and Thor's home. It has a health meter and depends on the player to clear five different areas before it depletes. Unfortunately for me (and a few others to my knowledge) this led to a point in the game where it can't be completed. After suffering through four of the five different areas, I had just a sliver of health left on Asgard's health meter. I was then tasked with battling a boss and was supposed to defeat the boss before the meter ran out. It was an impossible scenario, and in this day and age impossible scenarios should not be a factor in any game. The fact that this happened boggled my mind, and just adds on to the long list of reasons why this game is terrible.
All in all, Thor: God of Thunder is what it seems: a rushed movie tie-in game that needed to be on store shelves to go along with the release of the movie solely for marketing purposes. It saddens me that a character that has so much potential to star in a good game has to be done this injustice. Overall, the choice is simple: avoid Thor: God of Thunder at all costs.