Heavenly Sword Review Rewind
RECOMMENDATION:

For those looking for a quick, but solid, adventure.

Apparently the eponymous Heavenly Sword is a highly prized weapon. It is said to be a sword forged and used by gods, a theory that has resulted in the rampant bloodshed and chaos that has spread across the land. Chief among the pursuers is the evil King Bohan, an oddly charismatic megalomaniac voiced by the very talented Andy Serkis. Bohan has destroyed the lives of countless people in his quest for the sword and he has now turned to the last remaining clan not under his rule – the keepers of the Heavenly Sword itself – Nariko's people.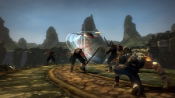 It should go without saying that Nariko is not exactly for the destruction of her people and so she takes up the Heavenly Sword against Bohan. What results is a surprisingly engaging story of defiance and self discovery woven over the course of five days.
I have to give kudos to Ninja Theory for creating such an immersive and appealing game world. The plot may be one that has been told a thousand times, but the characters through which the story is conveyed are so utterly interesting that it becomes difficult not become at least slightly emotionally invested in the outcome. A large part of what makes this work is the wonderful voice acting, especially that of aforementioned Serkis who served as Dramatic Director and had a hand in writing the story as well.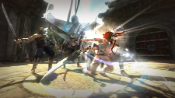 Its presentation is great, but Heavenly Sword stumbles a bit in the gameplay department. The first thing that most gamers will notice is how derivative it is. From the very first slash of the Heavenly Sword it's apparent that the guys at Ninja Theory are big fans of God of War. Kratos' DNA flows thick through our heroine Nariko's veins. This influence shows through in the form of insanely styled 100-hit combos to quick time event-driven boss battles. It's not that the game controls badly – though it is in the opinion of this reviewer that QTEs are the handiwork of the devil – but the mechanics are so similar that it becomes difficult not to make the comparison between the two games. Imitation may be the sincerest form of flattery, but essentially cloning the experience evokes an uncomfortable sensation of déjà vu.
Battles are tough but generally quick, which helps in keeping the combat from becoming too repetitive. Enemies are smart and know how to block so button mashing quickly becomes ineffective in later stages and will have to be replaced with strategic use of combos and counter attacks.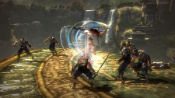 One thing that Nariko doesn't borrow from Kratos is the use of multiple weapons. Aside from a select few moments early on you'll spend the entire game brandishing only the titular sword. It does make sense that the blade would be your weapon of choice, but a little more variety here would have gone a long way in ensuring a more well-balanced experience.
Fortunately, this game isn't all about hacking and slashing. There are several shooting bits sprinkled throughout in an attempt to add some variety. In these sections you'll either be helming a cannon as Nariko or as her adopted sister Kai who makes use of a bow and arrow. While I'll certainly confess that these sections can be enjoyable, they are dependent upon the SIXAXIS control scheme. After firing, the player has the option of triggering a mode called Aftertouch which allows the user to guide the projectile to its intended destination by tilting the controller. I say option, but it's practically mandatory seeing as how inaccurate the shooting mechanic is and the SIXAXIS control scheme makes this an almost maddening experience. Thankfully the developers had the foresight to allow the gamer to turn the SIXAXIS controls off and instead use the sticks, making it a much more enjoyable experience.

The biggest issue with the game is that once it really starts getting going, it's over. Clocking in at about 4-5 hours of game time, Heavenly Sword has to be the shortest disc-based game I've played this generation. Now, a short game can be forgiven if it has significant replay value, but Heavenly Sword has virtually none. There are no trophies to collect and it's so easy to attain perfect scores on levels that even perfectionists won't find much to compel them to play again.
These issues aside, Heavenly Sword is still a good game at its core. The gameplay may be unoriginal, but it's polished and the production value alone may be enough to please some gamers. It may not have been worth the $60 it was fetching when it was first released, but now that it's readily available through rental services and bargain bins it's quite easy for me to recommend this to any PlayStation 3 owner who has yet to take a brief look into Nariko's world.