Paper Wars: Cannon Fodder Review
RECOMMENDATION:

If you're interested, get it on your mobile phone.

Finally joining the WiiWare ranks, Paper Wars: Cannon Fodder has earned something of a reputation thanks to its unique marketing spin. Sarcastically referred to by its developers as "the worst game ever," Paper Wars doesn't quite fit the bill. Don't mistake that to mean that Paper Wars is actually good – it's not. Like many of WiiWare's recent offerings, Paper Wars: Cannon Fodder would be better served as a free Flash game in your browser, made specifically for wasting time at work.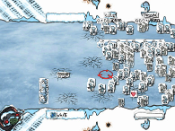 To make up for the low investment gameplay, Paper Wars is absolutely packed with missions to complete. Three full campaigns are available, each offering a slight riff on the gameplay of the classic adventure mode. Even still, the game mostly hits a single note across all of the various quests.
Controlling a reticule on screen with the Wii's pointer, you must defeat enemies advancing toward the left side of the screen from the right. You'll do this by charging shots and strategically placing them so the blast radius consumes the marching soldiers. The longer you hold the button, the larger the blast radius will be when your shot makes contact with the paper battlefield.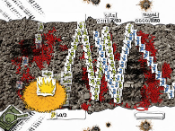 Winning is typically a matter of defeating a set number of troops without letting a certain number cross into your base territory (like a tower defense game). Other missions will task you with defending the base for a set amount of time; either way you'll be blasting enemies as quickly as possible.
To shake things up, various power-ups will drop from defeated soldiers. Some will cause an instant explosion when clicked, others will change how fast you can fire, but you mustn't set off explosions near these power-ups lest they be destroyed. In the Cyber Wars quest, you'll have to correlate your shots to match the colors of the enemies, which adds a bit more complexity to the standard formula, making quarrels a bit more hectic.
Like the recently released, Zombii Attack, Paper Wars: Cannon Fodder is an extremely shallow experience that won't hold your attention for long. By no means is the game as atrociously bad as Zombii Attack, but it's poorly placed on WiiWare. The smart phone iterations of the title will provide the biggest bang for your buck because you can boot them up whenever and wherever to waste a bit of time with some mindless fun. As it stands, it's unlikely anyone would bother booting up their Wii to drop shells on some paper soldiers.