Zen Pinball 3D Review
RECOMMENDATION:

For pinball fans on the go.

You might have seen other pinball offerings from Zen; they are probably the most prominent creator of pinball video games out there right now on the iOS, Android, PSN, and XBOX Live Arcade platforms. The four tables in Zen Pinball 3D all appear elsewhere, which shouldn't really be an issue for most pinball fans, since mastering tables takes practice and repetition. Zen's latest package in the Nintendo 3DS eShop, Zen Pinball 3D, will satisfy those residual pinball yearnings.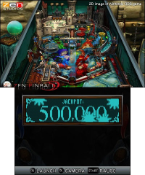 Two of the tables, Excalibur and Earth Defense, are extra heavy on the flashiness and use extreme features like an animatronic Merlin swirling his wand with perfect fluidity. It's pretty cool to see, but definitely not anything that could be manufactured. The other two tables, El Dorado and Shaman, are a little less over-the-top, but still keep their aesthetics in the gaudy era of pinball that started in the early nineties. El Dorado comes across as somewhat bland and uninteresting -- mainly due to its muted color palette, but its layout is a little ho-hum as well. Despite that one lackluster offering, all of the tables are still arranged well and have plenty of scoring opportunities to master.
The narratives can get pretty thick here for pinball, which helps make the required sequences easier to remember. For example, there's a mission in Earth Defense where you collect intel by knocking down certain targets; in another, you defeat the warlock in Shaman by breaking through his shields and sinking a ball in a particular hole. Each big score takes a skilled sequence of shots that don't happen by chance very often. Learning the tables takes a lot of attempts, and getting good at them takes even more -- perfect for those of us who love playing round after round.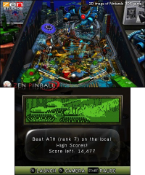 Tutorials are provided for each table to help you learn how to rack up high scores since you probably don't have a deaf, dumb, and blind kid loitering around your house to show you how it's done. The lessons are sufficient, but aren't done as well as the Pinball Hall of Fame collections by Crave Entertainment. Sometimes the lessons just increase the mystery of what you're supposed to do, referring to the table's specific names of ramps and targets involved in a sequence without visually pointing them all out to you.
Learning the shots is rewarding, not only because it ratchets up your score, but it can also unlock achievement-like awards available for each table. Each table has four awards to unlock as a challenge to nail those tricky shot sequences. Point pressing is still a blast since the game has well-integrated leader boards, allowing you to compare scores with friends, worldwide, and around the country. (By the way, ol' U.S.A. is really lagging behind Europe here -- let's get to work, America!) I only have one friend to compete with at the moment, but by golly I'm not going down easily. It's nice to see a Nintendo system finally using some of these basic and engaging online gewgaws.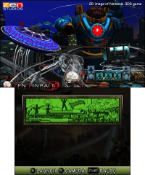 The 3DS is a good home for this collection, since pinball is great to have with you on the road when you have a couple of minutes to knock out a quick game. The 3D effects on the tables are nice to look at… until things really start moving. When the ball is whipping around at a moderate speed, the refresh rate in 3D mode can't keep up and the entire screen turns into a blurry mess. I eventually just kept the 3D off and didn't lament the loss. It also took me a while to find the camera view that worked best for me. There are several views to choose from, but none ever give you the same awareness you get at a real table.
A few other customizable options add to the long-lasting appeal, allowing you to change timers, bumper locations, and many other settings. You can make the tables more difficult to challenge yourself, or make them easier while you learn your way around. There is even a slow-motion capability to help you catch a shot you might have otherwise missed. Modified games are disqualified from the leader boards, but should boost your skills when you return to the default settings.
Playing a mean pinball is pretty tough these days, but Zen Pinball 3D does a bang-up job of giving you the opportunity and burning desire to do so. If you feel like you missed out on an era or want to keep living those bowling alley fantasies of yore, this collection is a great buy even if one table falls a little flat. You're likely to get hooked and spend hour after hour trying to nail all of those tricky shots. Once you get this set of four tables down pat, there's even promise of future DLC from Zen – something I'm having a hard time wrapping my brain around on a Nintendo system. At only eight bucks, you have a shot at becoming a pinball master without blowing your life savings one quarter at a time.