Carmen Sandiego Adventures in Math: The Great Gateway Grab Review
RECOMMENDATION:

Not Recommended.

After playing through the past three Carmen Sandiego Adventures in Math games, I've built up a memory bank full of the puzzles that have been featured in each one. It's pretty easy, as each game only contains ten puzzles and each feature repeat puzzles from prior installments. The Great Gateway Grab stays true to the series' roots, as it has a total of three repeat puzzles with two that are extremely similar, though not identical, to past puzzles. When half of the puzzles in the game are repeats, it becomes very hard to suggest anyone buy it if they've been following along with the series.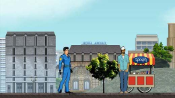 This latest adventure plays out similarly to all of the other episodes. A V.I.L.E. criminal has snagged another national treasure, this time The Gateway of India in Mumbai. Players are tasked with getting to the bottom of the story by talking to locals and jet-setting across the globe. Players can scan the environment to find hint coins and hidden clues, which can be used for assistance during the puzzles. Those familiar with the Professor Layton series will feel right at home with these Adventures in Math.
As with other past adventures, The Great Gateway Grab is short, though not quite as short as the last episode, The Case of the Crumbling Cathedral. Clocking in at about an hour, most of your time will be spent talking to each character numerous times to extract the necessary clues and puzzles in order to issue a warrant for the arrest of the proper criminal.
Because the entire quest and puzzles are static, there's little to no room for replay value, making The Great Gateway Grab a tough sell. Once again, these episodes would've been better served on a single disc with a plethora of puzzles that were varied on each playthrough. With such heavy borrowing from past episodes, The Great Gateway Grab is the most derivative title in the series yet. Unless your third or fourth grader is dying for more Carmen Sandiego, you're probably better off skipping this entry.