Toy Story Mania Review
RECOMMENDATION:

Only for Disneyphiles or kids who love Toy Story more than life itself.

In 2008, Disney launched a new state-of-the-art attraction at Disney World and Disney Land called Toy Story Midway Mania! It's all in 3D and is based around the riders participating in carnival games. With a premise like that, it made perfect sense to transform the ride into a video game, and they did. However, Toy Story Mania, developed by Papaya Studio exclusively for Wii, doesn't work as a game as it has a few confusing issues and just boils down to how fast you can press a button and whip the Wii Remote pointer around the screen.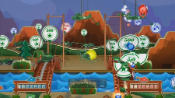 It starts innocently enough with a nice introduction into the world of Toy Story. From there, your only option is to hop into the Story mode. You can play this, and every other part of the game, with up to four players, but only two playing simultaneously. The Story mode begins with a short mini-game where Buzz and Woody help you acclimate to the game by letting you throw pies at targets that they're moving around. Get used to this, as every time you want to play the Story mode, you'll begin with this. That's right, the Story mode doesn't let you pick up from where you left off, and that is the only way to unlock anything else in the game.
If you 100% complete a game or earn enough tickets in Story mode to purchase it, you unlock it in Free Play, where you can play it to your heart's content. Outside of purchasing all the games in Free Play, the only other use for tickets is for pointless collectable stickers.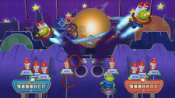 Every one of Toy Story Mania's games features one of the numerous characters from the franchise. However, they're not really varied. For example, Bo Peep's Baaa-loon Pop and Green Army Men Shoot Camp are pretty much the same thing despite their different aesthetics. While you might be firing a gun or tossing a ring, every game plays the same. All you do is point at the screen and fire at targets rapidly.
One of the only novel things about Toy Story Mania is that some games are also presented in 3D. However, the difference between the regular presentation and 3D is negligible. It doesn't add anything of substance to the experience.
And that's what Toy Story Mania lacks: substance. It's a soulless game for a great franchise, and a stark reminder of how a theme park attraction doesn't translate to fun outside of the park. You'd be much better off checking out Toy Story 1 and 2 in 3D next week then to bother with this game.