Sega Vintage Collection: Alex Kidd & Co. Review
RECOMMENDATION:

This is a pretty easy suggestion for Sega fans. As for everyone else, 360 owners should wait for a sale and PS3 owners should buy Revenge of Shinobi, consider Super Hang-On and not bother with Alex Kidd in the Miracle World.

Sega is no stranger to porting its greatest games over to new consoles. They re-release their games more than Disney re-releases their animated movies. Luckily, Sega doesn't lock their classics up in a metaphorical vault and in fact are now bundling three of the company's older games into one collection. One of the first in this new approach is Alex Kidd & Co., which includes Alex Kidd in the Miracle World, The Revenge of Shinobi, and Super Hang-On. A slapped together group if there ever was one, but does such a variety of genres work in its favor?
Let us start with the collection's namesake, Alex Kidd in the Miracle World. Originally released on the Sega Master System in 1986, this is the first title in the Alex Kidd series. The game is a platformer in the vein of the original Super Mario Bros. and the Kidd was the original mascot for Sega. Graphically, it's only on par with middle of the road 8-bit platformers such as McKids or Bonk's Adventure on the NES, but the game is crisp, bright, and looks decent on a high definition television. Its strength from an aesthetic point is in its art design and for what it's worth, Alex Kidd is a very visually creative game.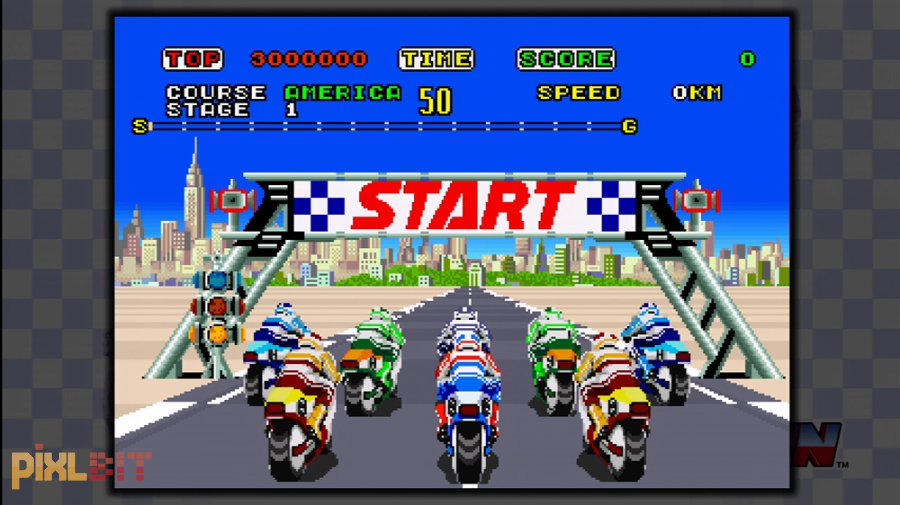 Alex Kidd completes levels by running around punching birds, fish, scorpions and other random animals with his giant fist and grabbing a food object or fighting a boss at the end of the level. While this comprises the majority of the game you will be doing an array of different things as well. Levels vary between each other greatly, as one level you'll be speeding through on a motorcycle and the next, you're swimming by octopi in an underwater level.
Furthermore, boss fights are a bizarre affair, ranging from a bull running at you that's in need of a punching to a purely chance game of rock-paper-scissors. While I couldn't call these encounters good, I can call them inventive. Such a different change in scenery and game mechanics could be jarring, but the mechanics are not so foreign that you wouldn't be able to switch mindsets impulsively. These illogical elements come together cohesively and the levels are diverse enough to keep things interesting.
Unfortunately, the controls completely ruin this game. Alex feels very imprecise when jumping and he slides across the ground when running as if he was on ice. This results in very sloppy platforming, something the levels are not designed for, thanks to the numerous walls of blocks in your way. You'll find yourself constantly missing and overshooting jumps until you're blue in the face. Exacerbating the situation is the fact that when you die, you usually respawn right next to where you died. This can result in inescapable death scenarios.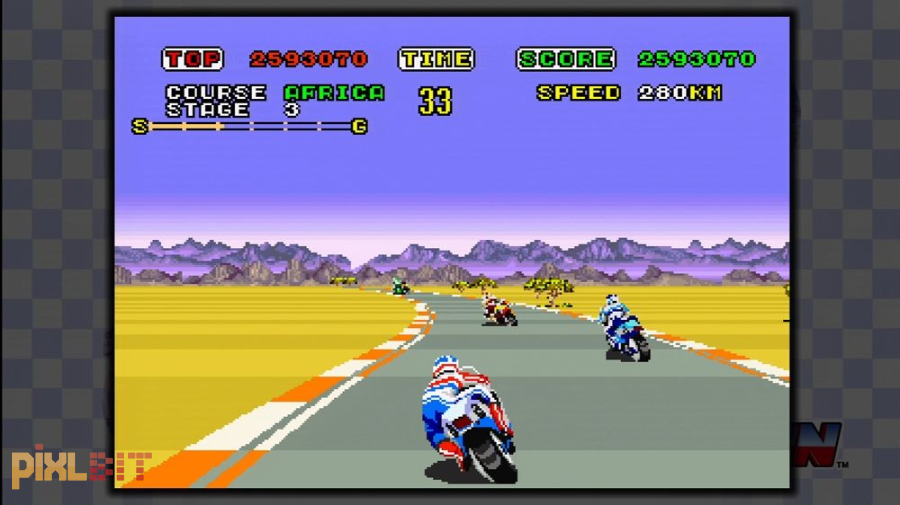 Overall, Alex Kidd is a very frustrating title and serves more like a history piece rather than an enjoyable gaming experience. However, its creativity and diversity may engage some gamers enough to suffer through the controls. It's a shame since this is a rather inventive title completely and utterly hampered by its own playability.
Next in the collection is The Revenge of Shinobi. Released for the Sega Genesis in 1989, you control Joe Musashi as he traverses eight stages that consist of two levels and a boss fight, fighting off ninjas and samurai using shurikens and Ninjutsu powers. This side-scrolling action title was a fan favorite during the console's infancy due to the varied levels, well presented art and enjoyable gameplay.
The graphics even today are pleasing to the eye. Walking through Chinese gardens, skyscraper rooftops and busy freeways shows the ability 16-bit graphics had to communicate scenery and setting. Some aspects look dated, such as the pixilated building surfaces or the less than fluid animations (when a samurai swings his sword, it's almost like a slideshow). For a title from three generations ago that's to be expected, but the game's graphical diversity still shines.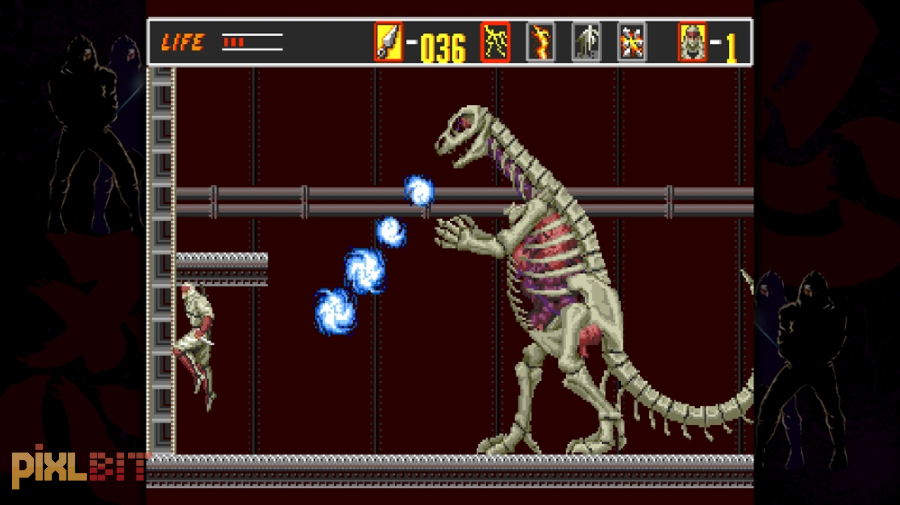 It is this part in the review where I regret to inform you that once you've taken your nostalgic goggles off, Revenge of Shinobi is not as fun as it used to be. Don't get me wrong; it's still enjoyable. Musashi is still a cool protagonist and his abilities are flashy and useful. Enemies explode upon impact, the somersault attack is still awesome to do and the boss fights are still well designed and challenging (although Spider-Man, Godzilla, Batman, and Rambo are no longer in the game due to expired licenses). Unfortunately, the controls and gameplay have not aged gracefully.
Musashi feels stilted and the controls aren't responsive or fluid as they once appeared to be. Doing a somersault requires tapping the jump button at the top of your jump and the timing as be finicky every so often. As with many titles of that era the game can be punishingly hard at times. For instance, there's a point in level 2-1 where you are required to somersault in order to reach a high ledge by using a log coming down a waterfall as a stepping stone. Miss the timing and it's instant—and cheap—death. So those of you who get easily frustrated with tough games should be wary. Finally, although the levels are graphically varied, they all amount to walking to the right with no real variation in gameplay or the layout of the level to break up the monotony. The little bit of verticality in the levels is in place to give a slight change to what you're doing and nothing more.
To summarize, Revenge of Shinobi may not be the spectacular game it once was but it's still a very good one. Of all the games in this collection, it has the best graphics, the longest and most enjoyable gameplay and you'll most likely spend most of your time on this title. However, for a better example of a Shinobi game that is more playable today, I would suggest the often ignored Shinobi III, also on the Genesis as well as part of the Sonic's Ultimate Genesis Collection.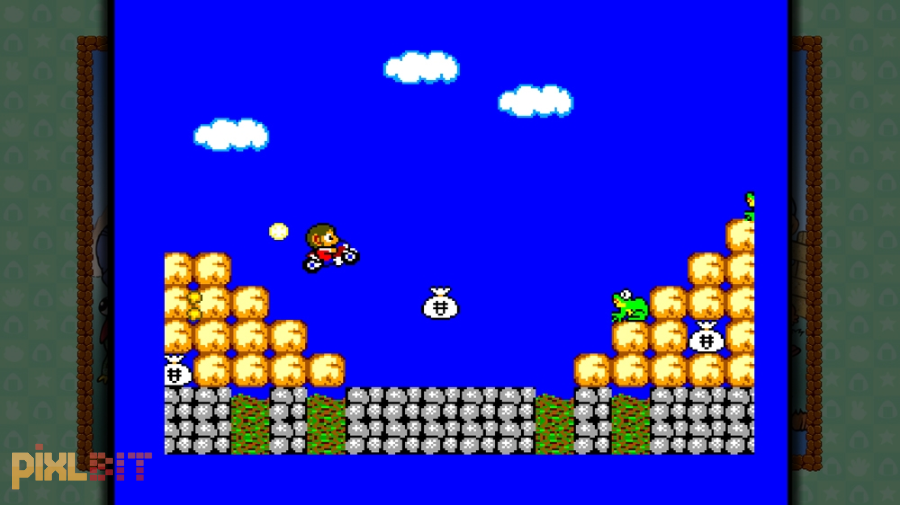 Super Hang-On is a motorcycle racing game and the final game on the collection. This is the original arcade version and like many arcade titles, the point was to make you spend as many quarters as you can. The game is comprised of four courses that each need to be completed in a very limited amount of time. Each course gets progressively harder and has more checkpoints to get to before the end.
The original arcade cabinet was actually a faux motorcycle that players would ride on to control the game, which was a far different experience than playing with a controller. As such, controls are decent enough with no lag but a frustrating element of the controller layout is that there is no option to modify the sensitivity of the analog sticks. This would've been appreciated as it doesn't take much to make your biker go into an all out turn. Unlike most racing games, there is also a turbo feature that is required to be used after you've reached your max speed. One last thing to mention is the menus are controlled using the gas and brake inputs. I know that's how they did it on the original cabinet but an option to use the analog stick and d-pad would've been nice.
Super Hang On is an enjoyable but shallow experience. It takes only 10 minutes or so to go through a course, and at four courses that adds up to less than an hour of gameplay even taking trial and error into account. Since there is not much more to it other than that, you're left with memorizing the tracks or completing the trials to extend the playability but you're still doing the same thing over and over. This was a title made for the arcades and it shows.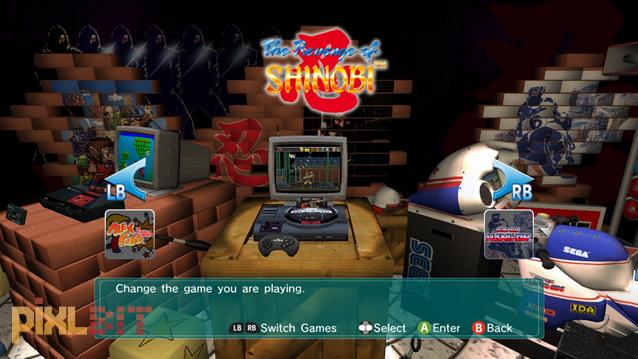 As this is a collection of older titles, extras are bound to be included. Although there are no concept art or video interviews included for any of the games, a sound test is available for each title as well as trials containing challenges to complete for leaderboards placement. Various display sizes, wallpapers, and filters are available for each game and 3D is available for Super Hang-On. Save states are included for all games and various control settings are also available, including rapid fire. In addition, different region versions of the games are available for Alex Kidd and Revenge of Shinobi and two different cabinet settings are available for Super Hang On. This all ensures that you will be able to play these games in the quality and experience that you like, whether you want your game to take advantage of the full real estate of your HDTV or recreate your CRT television memories, complete with scanlines.
While this collection was released for both the Xbox Live Arcade and PlayStation Network, the games were released separately on the PSN. Because of this, PS3 owners have an easier choice. 360 owners should either try the trial first or wait for a sale. While the variety of genres work for this compilation as it keeps things varied, the titles are also varied in quality. Also, two of the games are part of franchises that merit their own collection. What's presented here is a very lopsided collection that only fans of Sega should bother. Unless you really, really need Revenge of Shinobi. Which you don't.