The Walking Dead: The Game - Episode 3: Long Road Ahead Review
RECOMMENDATION:

Mainly for fans of The Walking Dead, Zombies, or Adventure games. However, everyone should give this series a shot.

It was risky to take a popular known brand like the Walking Dead and create a unique and separate story within that universe, but the risk has paid off. The first two episodes have been great in their own right, but this third and latest episode entitled Long Road Ahead ups the ante not only when focusing on the action, but the emotion as well.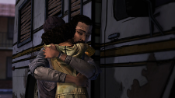 Episode 2 left on a somewhat somber note. Without spoiling anything, there is a great amount of tension in the group. Some members have their minds set on leaving while others aren't so keen on the idea. With tension rising within the group, and factions beginning to form, group members start distrusting each other. I can't elaborate too much more without spoiling major plot details, but as you probably can guess, it gets pretty ugly.
Before I dive more into the character details of Episode 3, let's get into the gameplay. For those who don't know, The Walking Dead employs a rich conversation system that allows for different moral options. Players can go about a conversation in multiple ways, like answering positively, negatively, falsely, honestly, or even with silence. Your choice is all up to you, but there are definitely consequences for your actions. Zombie encounters usually play out with quick time actions. Telltale has implemented a cursor that players can use to designate specific people and items which definitely comes into play during these encounters.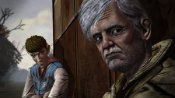 The first two chapters had their fair share of action sequences, but Long Road Ahead takes it a bit further. Not only do you have a fair amount of zombie encounters, but there is even a big shooting segment this time around. While it doesn't hold a can to your average shooting based game, these segments feel refreshing for a series that doesn't often place you in situations where a shootout is the best option. This chapter also addresses an issue that I had with the second chapter, which was the lack of puzzle type sequences. In this chapter, there are plenty of areas where you need to actually solve a small puzzle, or obtain items to advance. These areas are never difficult, but they do feel satisfying.
The place where the Long Road Ahead shines is with its story and characters. A lot of bad things happen, and the situation changes dramatically for Lee and Clementine. The solid voice work complements the set piece moments that will leave players with their jaws on the floor. On a couple of occasions, I paused the game to collect my thoughts after a shocking event. I kept playing, realizing how attached I was getting to the cast members, and it only made my experience that more enjoyable. By the end of the episode, I felt like I was taken on an emotional rollercoaster. I also couldn't wait to see what was in store for episode 4.
If you are a fan of The Walking Dead graphic novels or television show, and you haven't played these games yet, do yourself a favor and get them now. The quality is on par, and to some will surpass those standard set by the previous works in the Walking Dead fiction. This episode shows that this series is more than just an adaptation of a popular series, but it might even be worthy of a game of the year nomination. Unfortunately, some technical glitches and slow-down hinder the overall experience. This alone keeps it from being perfect but I still can't recommend a Long Road Ahead any more than I already have.