The Walking Dead: Season Two - Episode 1: All That Remains Review
RECOMMENDATION:

For anyone who enjoyed the first season.

Season Two of Telltale's the Walking Dead pulls no punches with its first episode. Within minutes, I was reminded that the universe of The Walking Dead is no joke. I was happy that the narrative is strong: an extremely gripping tale filled with a lot of memorable moments and even more memorable characters. The gameplay is also much improved, though technically, the experience leaves something to be desired on Xbox 360.
Picking up after the dramatic ending of Season One, players take the role of Clementine, a young girl who has already been through a lot. After even more dramatic and unfortunate events at the beginning of the episode, about a year passes and Clem is now an older and much more mature character, although she is still young and vulnerable. You won't be seeing Clementine becoming a young little badass, yet she has learned to take care of herself. While in her shoes, many aspects of her character are in your control so you can give her a tougher edge in a conversation if you prefer.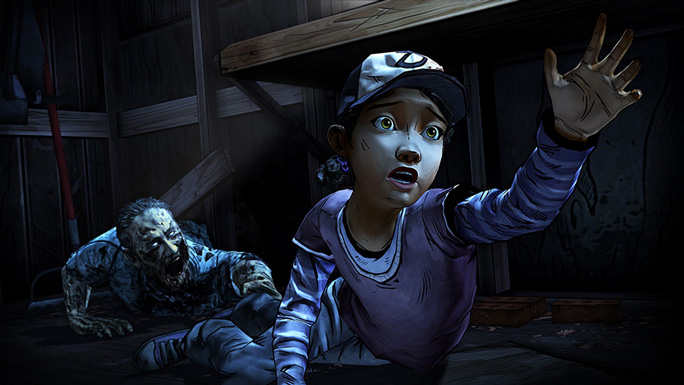 I don't want to spoil the major plot points, but the story gets VERY dark. There are moments that made me exclaim in shock and cringe in pain. The things that Clementine had to go through really made me feel for her situation. As usual, there are some choices that are extremely difficult and made me wonder if I was doing the right thing. The way the story plays out, it plants many questions that will undoubtedly be answered in future episodes. The story in this episode is self-contained, but the questions that do arise are nice allusions to possible future events.
Season Two also has a host of improvements over the last season. Graphically, the game definitely looks better, with characters emoting and animating more realistically. Gameplay also got a slight overhaul by taking a few cues from The Wolf Among Us, making action sequences feel more dynamic and exciting to participate in. Unfortunately, on Xbox 360 this was interrupted by constant frame rate issues and technical hiccups. If it wasn't for the fact that I imported my Season One saves, I would have gone for the PC version, which seems to have a smoother gameplay experience all around.
In general, Season Two of Telltales the Walking Dead is starting off as a success. It manages to introduce a brand new story with a mix of familiar and new characters that will surely attract fans of the last season. While this episode will not likely win over harsh critics of the previous season, it will certainly do justice for those who enjoyed it. After completing Episode 1, I am really excited to see what Telltale has in store for the rest of the season, and I'd like to believe that it will only get better from here.