The Guided Fate Paradox Review
RECOMMENDATION:

For anyone who loves an incredibly challenging game that will constantly test your patience.

Just imagine that you're one of the most unlucky people in the world for a moment, and you're walking along and a cute girl asks if you want to have a free try with a small lottery machine. Now let's say you win for the first time in your life, and that prize just happens to be a transformation into God. That's how the story goes for Renya, and unfortunately, it's the last bit of luck you see throughout the rest of the game.
Guided Fate Paradox is a roguelike game that features an immense story regarding the transformation of a 17-year-old boy who turned into a God. The game takes place in Celestia (NIS seems to love Celestia and the Netherworld), where Renya learns what it takes to transform from boy to god. Throughout his experiences as God, you enter the Fate Revolution Circuit to aid those in need by guiding their fates to a better purpose.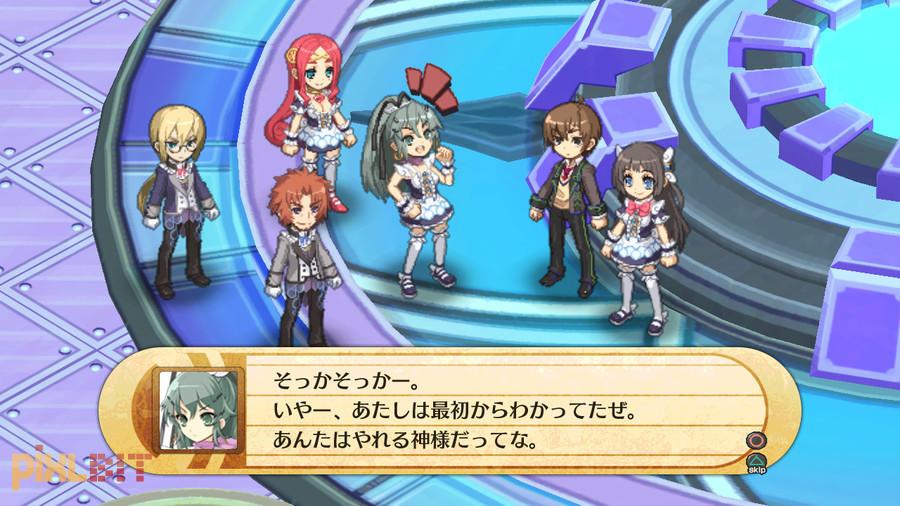 Each fate you guide has a world unique to the individual who has prayed to you. You can find yourself guiding the fates of mermaids in an undersea adventure, or helping a cowardly zombie in the cryptlike cemeteries, and even help befuddled librarians find their way and purpose in life. Each world is catered and crafted to feel like you're truly in the world of the hapless victim. Whether you're in a seemingly endless ocean, a library crafted into a cube-like maze that plays like Mario Galaxy, or a shopping mall that is constantly pushing you forward with poisonous gas, every level is different.
But difference is the key to roguelike games. For those of you who are unfamiliar with this niche genre, every dungeon is tiled and randomly generated, you start every dungeon at level 1, your inventory is extremely limited, and death means loss of levels and equipment upon restarting. But don't let this scare you away, for if you were to succeed in a dungeon, you will be granted permanent stat boosts that carry on throughout the rest of the game. Treading carefully and staying five steps ahead of your enemies are key strategies which will be branded into your mind sooner rather than later.
There are plenty of quirks to make you hate yourself for playing this game, but trust me whenever I assure you that the risk is well worth the reward, for the Guided Fate Paradox offers a great story and incredible narrative that's laced with plenty of tongue-in-cheek humor. The main character casting is quite the ménage of personalities, but to be honest, it's the supporting cast that will suck you into the game. As I stated before, every dungeon you enter is filled with purpose, and that purpose is to guide the fate of a down-and-out individual, and these individuals are what made the game to be quite remarkable. Each person you encounter has a unique tale to weave and spin, and each tale is able to capture a sense of remorse from within the player. There were many times I stopped the game to ponder over how the prayer would be answered and how the story would unfold itself in each chapter. The characters were so well fleshed out that I found myself actually caring about the circumstances which brought the characters to where they were, and how I could guide their fate to something better.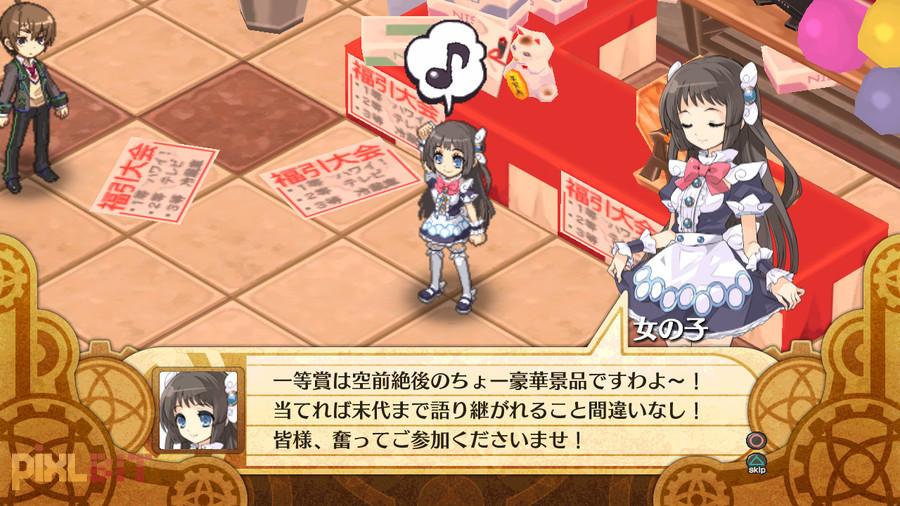 But as you guide on, the challenge increases until you find yourself seemingly unable to push on. There were many times in which I was simply stumped and no amount of level grinding seemed to help. At one point, I was stuck on an early chapter (four of ten) for nearly a week before I triumphed victoriously. There are certain parts in the game which require pure strategy, and other parts which can simply be grinded out, but this is the heart and soul of the roguelike genre.
Guided Fate Paradox isn't for everyone with its staggering difficulty, but for those who are strong enough to weather the storm, it's well worth a play through. The cast of characters and story make the game well worth the effort, and the ever-changing dungeons are sure to keep you guessing. With over ten chapters to play through plus nine bonus dungeons, Guided Fate Paradox is surely going to keep you busy for hundreds of hours, if not more. Now go forth, and guide some fates!