CastleStorm Review
RECOMMENDATION:

For anyone with rubbery fingers who's looking for a game that's easy to pick up and set down.

When I first downloaded CastleStorm, I was expecting a tower defense game akin to the classic Flash games. What I found, however, was a game crammed with bits and pieces of different classic genres that should have satisfied my nostalgia itch, but failed horribly. With a twist of tower defense, a mechanical snippet of Angry Birds, and a smidge of beat 'em up, I was left in a state of confusion about what this game desired to be along with horribly cramped hands from the poor control schemes.
The story of CastleStorm is simple enough: you play the part of Sir Gareth the Knight, and you lead his beloved army on a quirky adventure to reclaim a precious treasure that was stolen from you by the neighboring Viking Kingdom. The dialogue is humorous as it often leads into odd and awkward scenarios such as where to dig latrines, but never crosses any of the boundaries between childish and adult humor. Along the way, you encounter numerous obstacles, whether it's fending off enemies from invading your castle (I guess the castle travels with you somehow?), defending against wolves, or simply participating in medieval games. For the most part, these simple missions have one of two goals: defend your castle or capture an enemy's flag and defend your own.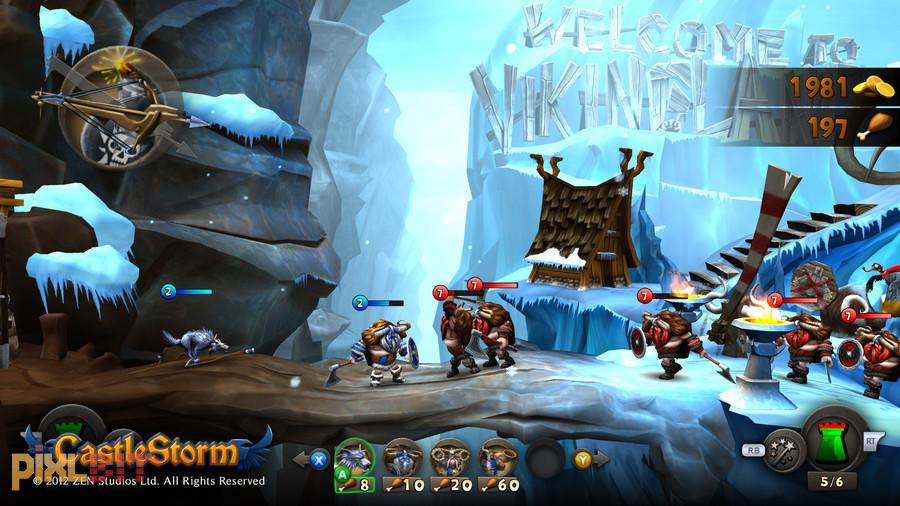 While attacking or defending, you're given numerous options to accomplish your set goals. You can send soldiers of different classes as well as healers to hold the front line, you can summon yourself on to the battlefield so you can slay Vikings with Gareth's own two hands, you can cast various spells to strike down the infidel Vikings, and best of all, your trusty Ballista is always prepared to knock down enemy troops and crumble enemy walls. All of these options have an abundance of ways to be used as well as varied tiers of strengths and weakness as you accumulate more and more of them.
Your castle comes standard with a few rooms pre-made and the option to add more as you progress. You level up and gain a plethora of upgrades as you progress through the story and side quests, allowing you to buy new rooms for your castle and expand your combat abilities. Building and enlarging your castle is probably the coolest feature of the game, simply because nothing about the process necessarily needs to make sense. As I was running out of room to build, I realized that I could easily place my archer's training room vertically instead of horizontally, which not only looked hilarious as my archers shot vertically at their targets, but fit my current castle schemes well. You have the option to make your castle as complex or as simple as you like, as long as it all works in accordance to the abilities you have preset to use in battle.
In theory, this game should be fun to play, but in reality, it's hectic and overwhelming due to the poor control scheme and the horrendous precision of the ballista. You need to use A, B, X, and Y for ordering soldiers, ballista attacks, summoning, and magic. Easy enough, until you need to switch through your options of each tier by using the Wii U triggers. Eventually, you'll find your hands and fingers in knots as you're attempting to fire your ballista and summon Sir Gareth onto the battle field simultaneously.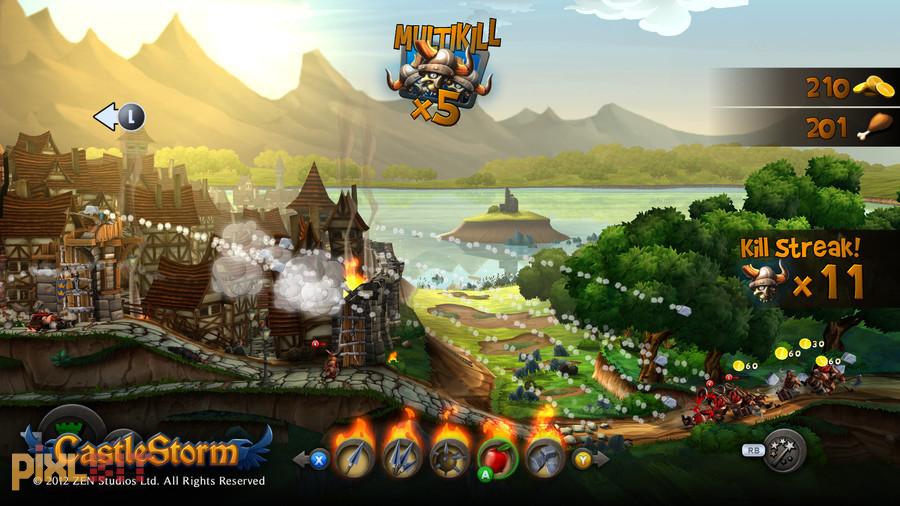 The overpowering ballista felt as if it should've been enough to hold off any looming enemies while I properly situated myself and the controller tactically, but the precision -- marked by a faded and arcing white line -- felt entirely too loose while free-aiming, and way too slow while attempting to accurately aim for a specific area. There is no in-between that feels comfortable, and this often led to frantic button mashing as I was attempting to summon soldiers to defend my front gates, and accidently used healing magic on some nearby rocks.
CastleStorm simply feels as if it's trying to ride the coattails of its predecessors. By mixing and matching successful genres, CastleStorm ended up as a mashed menagerie that simply doesn't work. Couple that with the poorly laid out controls and all you have left to love is the slightest humor found in the story mode.