Phoenix Wright: Ace Attorney Review Rewind
RECOMMENDATION:

If you're open to the idea and are okay with very minimal gameplay, Ace Attorney formula is strong enough to work for you. I would recommend trying a demo of it, as it will offer the first short court case and give you an exact idea of what's in store here.

I believe you can make a good game out of anything. Pulling off some concepts will be harder than others, but if the right approach is taken, then even the most boring or trite idea can be turned into something extraordinarily engaging and compelling. The reason I believe this is because of my strong love for the Ace Attorney franchise, video games where you play as a lawyer defending clients. Yet these are also games where just tapping "Present evidence" on a touch screen can have me shaking from anticipation and excitement.
There is no one element to Ace Attorney which makes it work. Rather, it is like a Jenga tower immediately before the game ends: Alter anything, no matter how minor and everything will come crumbling down. If even the music or character animations would tweak it would not work, that's how well thought out everything in this franchise is.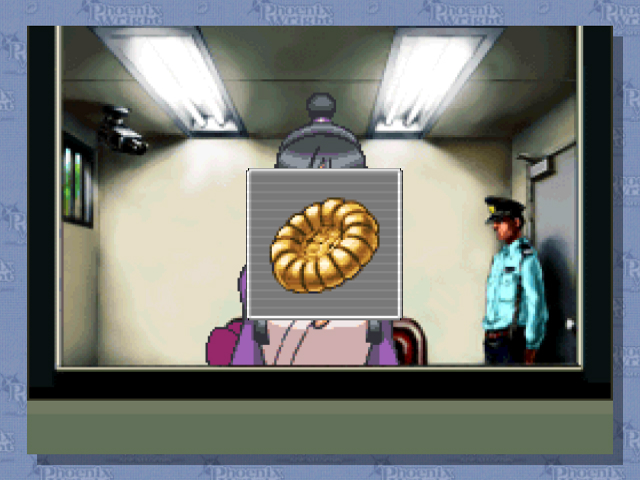 Yet the heart of the Ace Attorney franchise has remained its characters. Which makes sense as the gameplay is nothing but scavenging areas for clues, navigating dialog trees, and presenting evidence to the court. These actions, in a vacuum are not compelling in any way. Yet once the game unfolds its tale and mystery, it does a fantastic job of making the player want the defendant free, the arrogant prosecutor taking down a peg, and the evil murderer brought to justice. Yet above all else, the game makes sure that people will want Phoenix Wright to succeed.
Phoenix is a great character because of his amazing role as an underdog. He routinely goes to court with everything stacked against him, receiving little to no slack from the prosecutor or judge and having enough trouble to just keep the trial continuing, let alone getting a not guilty verdict. Yet never once does he doubt his client, he has an amazingly strong trust for whomever he defends. He will turn cases around on their head and come up with the most outlandish (though often true) theories for how a murder actually took place that it's impossible not to admire his wide eyed optimism.
Then there's the witnesses. Very few of the people called to the bench to testify will be unreliable. Usually they will have their own hidden agendas, some of these petty, some of them more sinister. Hell, they even throw in a parrot to testify (which ends up being hilarious by the way). Yet all of them crack once you show how their account is full of holes. It is a very gradual process; first a witness loses composure with a shift to more stimulating music until eventually an epic track accompanies a full on panic as Phoenix gets closer to sealing the deal on his client's innocence. It is a grueling process, yet all worth it to see the eventual criminal have that complete mental breakdown when Phoenix delivers the final blow.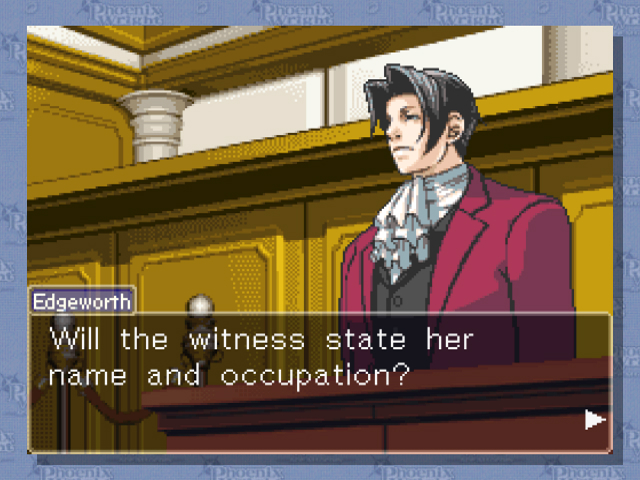 Equally as important as these witnesses and Phoenix is his rival Miles Edgeworth. A large focus of the title is what made Edgeworth change since Phoenix knew him as a child. While once a strong believer in defending the innocent, Edgeworth now has a reputation as a corrupt prosecutor, forging evidence and using unethical tactics to ensure his guilty verdict. Combine this with how cases against him feel less like a day in court and more like a Street Fighter match, and there is subtle, yet well done commentary on the flaws of our courts.
The franchise was meant to critique the Japanese court system, which (at the time of development) had over ninety percent of clients receive a guilty verdict while defense attorneys were seen as a joke in the courtroom. This game takes the absurdity behind how such a court could function and runs with it to create a very simple message: The idea of a court based around two people trying to win is absurd. The truth is what matters. Yet it cannot deny that there is a paradox here. A lawyer and prosecutor need wins to prove their competence, yet these are based on the truth more than the professional's skill. The game never beats this information to the player's head, but rather lets everything play out naturally and let the mechanics and story speak for themselves.
Yet that is not to say the game is all about its message. Quite the contrary, as this is one of the funniest video games I have ever played. A large part comes from Phoenix's dry wit providing some great one liners along the way. His assistant Maya Fey meanwhile, is full of her own great moments while the witnesses will usually have some bizarre quirk to provide some good humor. This is important especially during the investigation segments as these are much less clear and stimulating than the courtroom portions of the game, though always feel worth treading through to get to court.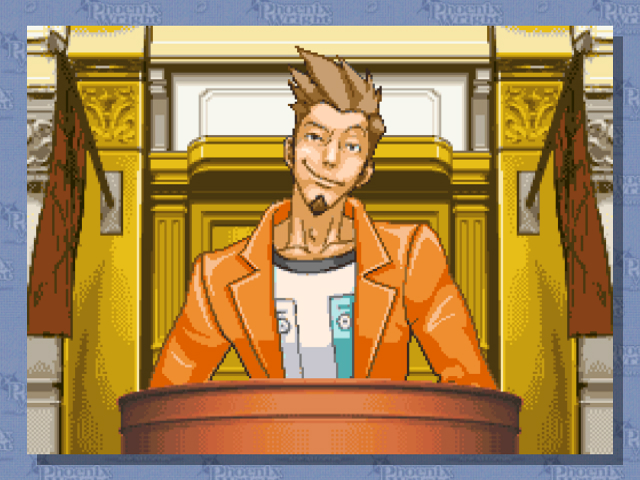 Ace Attorney also has a fantastic pace behind its five cases. Each will gradually provide more complex murder methods, schemes behind the culprits' alibies, motivations, and reasoning behind why witnesses are unreliable. These all end up being very important as Phoenix Wright must prove without a shadow of a doubt that his client could not be linked once the truth behind every listed factor is revealed and another murderer is revealed through them. It is a strong uphill battle which feels satisfying. At the end of the fourth and fifth cases especially, I felt a feeling satisfaction, one where I did not just beat a video game, but gratified me with a real sense of achievement.
This is the true testament to how strong Ace Attorney's writing is. Something as simple as navigating menus can feel like an amazing triumph when all is said and done. That is the true testament of a great game, one where the game is
There are five versions available: One on the Nintendo DS, one on Wii, two on iOS, and one on 3DS. Out of the iOS versions, there is an HD version and a normal version based on the DS port of the Japanese only Gameboy Advance original, which both the DS and Wii version are based on. Out of those three, the Wii is the weakest as the series benefits greatly from a touch screen while the other two is a matter of preference between DS and an iPhone/iPad.

The HD version, however, is superior for its sharp visuals and less cramped display, though the interface is a bit cumbersome. Text moves the slowest of the three and while there is an option to speed it up (unlike the aforementioned three), this method is strange and often would make me accidentally skip lines of dialog. If you have a 3DS, however, that is the way to go. Its graphics are not quite as good as the HD version, but significantly better than the other three. The interface, meanwhile, is the best of the three letting you speed up the dialog from its slow pace. Just give a demo a shot first because it is only packaged as a trilogy with its sequels Justice for All and Trials and Tribulations.